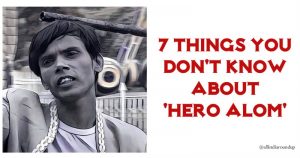 7 Things You Need To Keep In Mind Before Trolling Internet Sensation 'Hero Alom'
Yes! this famous personality from Bangladesh is ruling the Internet from past few months, It is his odd looks and music videos that gathered huge attention.
People keep trolling him for his adverse looks, makes memes of him but the interesting thing we need to keep in our mind is 'We are making him famous'.

Whatever the verdict his, let us just bring few facts related to 'Ashraf Alom' a.k.a 'Hero Alom' which most of us don't know,
Alom was ditched by his father at an early age. He was handed over to Abdur Razzak as his family is already poverty stricken.

He started selling Chanachor garam, street snacks during the day and worked at the DVD shop during the nights. Later managed to own the shop through instalments.

Started a Cable TV network with the person who adopted him and got influenced by actors he watched all the day then kept dreaming of becoming an actor.

Successfully launched his first music video, it was a disastrous failure because of his looks.

Still continued with his music videos and became popular for his contrasting choices in casting and his odd looks which itself became a 'unique genre'.

With lots of hard work and dedication, he hit the milestone of 500 music videos till now.

Despite his non-heroic looks, he is surrounded by the most beautiful girls in Bangladesh. Though he gets trolled like anything he is leading a better life than all the trollers sitting in front of the Internet.