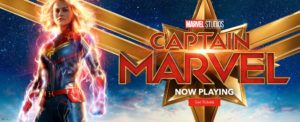 Captain Marvel The First Female Superhero Movie And The 4th Marvel Movie To Enter The $1 Billion Dollar Club
Captain Marvel the first female superhero movie and the fourth marvel movie to enter the $1 Billion club, the movie collected over $358 million in the USA alone.
The movie made $645 Million in other countries. The information was shared by Walt Disney in a press release.
The movie earned $455 Million in its first week alone.
Captain Marvel is also the 2nd highest domestic opening weekend for a solo MCU character debut, the movie was behind Black Panther.
The movie also beat DC's Wonder Woman, the movie earned $100 Million in its first week when it was released in 2017.
Captain Marvel is directed by Anna Boden and Ryan Fleck, Brie Larson plays Captain Marvel who is also known as Carol Danvers, a pilot in the US Air Force.
The movie also features Samuel L. Jackson, Annette Bening, Ben Mendelsohn, and Jude Law.
Captain Marvel was released on 8 March 2019.
Brie Larson will also be part of the Avengers: Endgame that will be released on April 26.