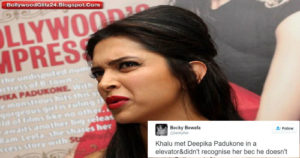 Deepika Padukone Introduced Herself To This Pakistani After He Failed To Recognise Her, Series Of Tweets Goes Viral
Guess what happens if you see Deepika Padukone besides you, of course! One can't simply frame that in words. One must be living under a stone if he doesn't know the queen of Bollywood, Deepika Padukone.
This is what exactly happened with this Pakistani guy. His series of tweets on meeting Deepika Padukone is going viral over the social media platforms.
A Twitter user from Pakistan named @beckyitter claims that her uncle met Deepika Padukone in Abu Dhabi. The user explained in the story that Deepika and her uncle met for the first time at the elevator in city's airport. Her uncle failed to recognize her as he doesn't watch too many Bollywood movies, shocked Deepika took a step forward and in fact, made an effort to introduce herself and making him aware of the films she had done.
The user @beckyitter then explains that both her uncle and Deepika were residing in the same hotel in Abu Dhabi. Apparently, she then asked him to come join her for a meal. The two talked about their visits and then the man left.
Though there are no authenticated proofs, these tweets are in the spotlight. We can't say if it really happened. And while it's very humble of Padukone to introduce herself to a man who doesn't know her despite her stardom, it's a little difficult to buy that she was shocked to realize that.
Meanwhile, most of the fans were dying to meet their heartthrob favorites, there exist such people who don't even care about such things.
https://twitter.com/beckyitter/status/806906790067769344
They both were heading for the hotel breakfast buffet and khalu was sitting alone so Deepika sent over her manager asking him to join them

— Becky Bewafa (@beckyitter) December 8, 2016
I'm dying ? Deepika was in the elevator when my khalu went in. She realised he didn't know who she was so introduced herself w her full name

— Becky Bewafa (@beckyitter) December 8, 2016
Khalu replied w his name. She was shocked,then ASKED if he watches Bollywood films.He said rarely.She named her blockbusters. He hadn't seen

— Becky Bewafa (@beckyitter) December 8, 2016
By now they'd reached the breakfast lounge. Khalu got his food& sat on his table. She sent over her tamil manager who asked khalu to join

— Becky Bewafa (@beckyitter) December 8, 2016
He went over&sat w her. She tried again to make him recognise.Told him y she was in AbuDhabi, askd khalu abt y he was.Talkd abt random stuff

— Becky Bewafa (@beckyitter) December 8, 2016
He went over&sat w her. She tried again to make him recognise.Told him y she was in AbuDhabi, askd khalu abt y he was.Talkd abt random stuff

— Becky Bewafa (@beckyitter) December 8, 2016