[WATCH VIDEO] 'Desi' Groom In Canada Steals The Show Arriving His Wedding Ceremony In Tractor
Indian marriages are all known as the epitome of celebrations, with splendorous colors and grandeur, people leave no stone unturned in making the day memorable.
With the modernization and effects of western culture, means of celebrations almost turned its way all to the expensive cars and automobiles. Nowadays for brides, there is no room to expect anything less than Mercedes, BMW or AUDI as a means of entry for the groom. However, this bride-groom has something different in mind.
He bossed the day by entering the wedding ceremony in a tractor accompanying the baraat, if you assume that this happened in some native village, when you need to rub your eyes, because, all it happened in Canada's  Brampton.
The whole event is recorded in the camera and is delightful to watch. In fact, the entire baraat made an entrance in vehicles such as rickshaws to make for quite a unique wedding party. With loudspeakers playing hit Punjabi songs, rest of the family was on the back of the tractor holding flags, well, it is all dreamy, isn't it?
This is definitely an unforgettable moment for the couple, the video is now going viral on the Internet and is shared on many Facebook pages.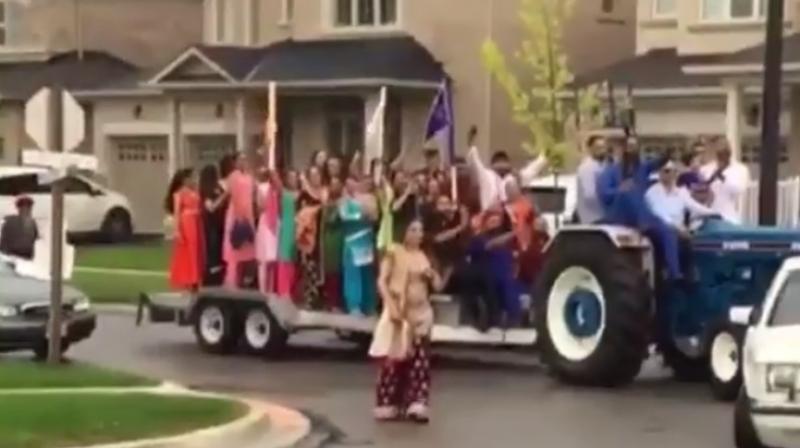 It seems that the Bollywood has its effects on this couple, moreover, all one can ever dream of is an unforgettable wedding way.
Thanks to the crew who reflected the Indian culture across the oceans when our neighboring colonies are failing to do so.
Watch the full video here:
Related Article: Watch Video: Punjabi Groom's Pyjama Falls During Wedding Ceremony, It's Hilarious