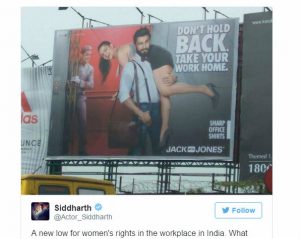 'Jack And Jones' Apologises To Actor Siddharth, Quits Its Campaign Featuring Ranveer Singh
Branding has been playing a vital role in this competitive world since decades, and the prominent brands are nonetheless going down when it's about billboards, posters, advertisements or other forms of promotion.
A new low for women's rights in the workplace in India. What were they thinking? #Fail pic.twitter.com/3PW5mMaKOt

— Siddharth (@Actor_Siddharth) November 20, 2016
South Indian popular actor Siddharth Narayan slammed 'Jack and Jones' through his twitter account questioning them about the objectification of women in the billboard featuring Ranveer Singh.
We didn't intend to offend anyone with one of our billboards. #NOTHOLDINGBACK and withdrawing it immediately.

— JACK & JONES INDIA (@JackJonesIndia) November 22, 2016
Popular clothing and other fashion accessories brands often wheel after the Bollywood actors in order to maintain greater exposure in public.
Duly depending upon the attention factors, various brands are ignoring ethics that always mislead the audience.
Siddharth, who is popular for his supporting role in 'Rang De Basanti' and 'Striker' has been always vocal on mentioning how Bollywood is misleading people.
Soon after his tweet on 'Jack and Jones' branding ideology, the company withdrew its campaign and terminated those billboards.
We have stopped the Indian campaign made by our Indian company. We didn't intend to offend anyone #notholdingback

— JACK & JONES (@JackandJonesTM) November 23, 2016
Gliding through the tough path of marketing and branding, somewhere the prominent brands have always been misguiding the society in one or other way. As soon as Siddharth criticized the billboard theme, the tweet went viral in social media and it is flooded with the comments backing Siddharth's opinion.
People slapped the branding billboard saying that minimum common sense must be applied before executing such posters and committing such petty mistakes from prominent brands like Jack and Jones is quite unexpected.
Ranveer Responds After 5 Days:
With Ranveer Singh himself clarifying his stance and saying sorry for getting the advertisement wrong, we hope the matter will now rest in peace.