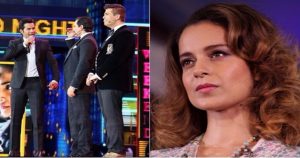 Karan Johar, Saif Ali Khan And Varun Dhawan Takes A Dig At Kangana Ranaut, Say "Nepotism" Rocks!
Bollywood stars Saif Ali Khan, filmmaker Karan Johar and Varun Dhawan brought back the Kangana Ranaut-Karan Johar nepotism controversy at the 2017 IIFA awards stage on Sunday.
Filmmaker Karan Johar, along with actors Saif Ali Khan and Varun Dhawan, all of whom belong to film families didn't shy away from raking up the nepotism debate at the IIFA Awards event.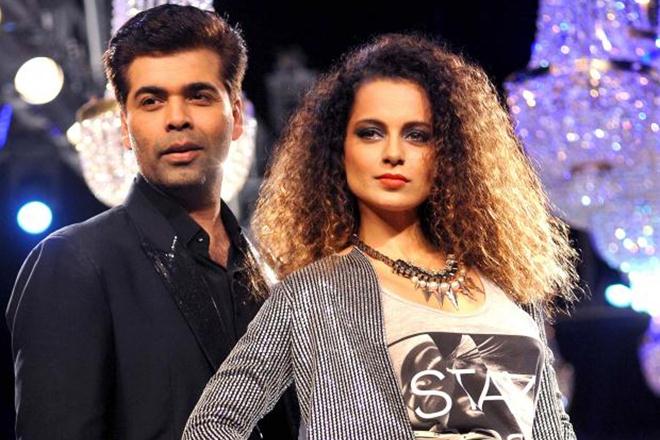 In February this year, Kangana Ranaut had called Karan Johar 'intolerant' towards outsiders and a 'flag bearer of nepotism' on his popular chat show Koffee With Karan. It prompted a pointed exchange between the two, via interviews to separate media outlets.
Karan and Saif were hosting the gala and Varun joined the two actors on the stage at the Metlife Stadium to receive the Best Performance in a Comic Role for 'Dishoom'. Meanwhile, Saif joked that the actor had made it big in the industry because of his father, director David Dhawan.
Best Performance in a Comic Role – @Varun_dvn for Dishoom. #IIFA2017 pic.twitter.com/RnF3rGroC7

— IIFA Awards (@IIFA) July 16, 2017
"You are here because of your Papa," Saif Ali Khan said.
To which Varun Dhawan responded, "And you're here because of your mummy (Sharmila Tagore)."
Karan Johar added, "I am here because of my Papa (Yash Johar)." The trio then said in unison: "Nepotism rocks."
Varun, soon took a potshot at Karan saying: "There was a song in your film… 'Bole Choodiyan, Bole Kangana."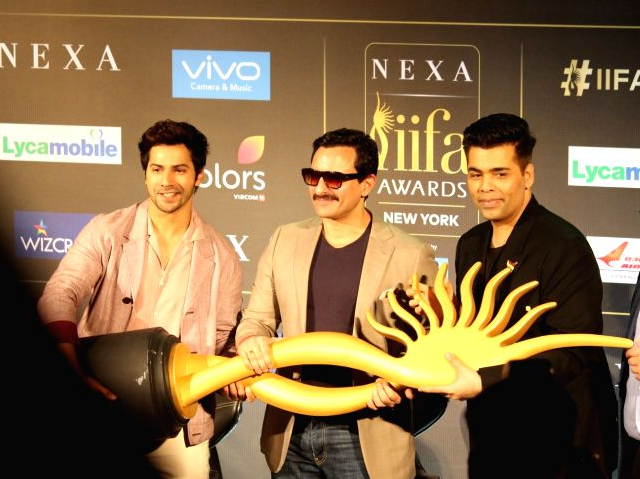 Karan, with his quick wit, then commented: "Kangana naa hi Bole Toh Achha hai… Kangana Bahut bolti hai. (It's better Kangana doesn't say anything, she talks a lot."
On Twitter, a barrage of criticism followed, describing what the three men said as unfunny and calling them out for joking about Kangana in her absence.
Twitter Reactions:
I'd like to see the likes of Karan Johar, Saif & Varun Dhawan try their Nepotism humor when Kangana is in their presence. #IIFA

— Abhishek Singhvi (@DrAMSinghvi) July 17, 2017
I don't know what kind of entitlement you need to actually find 'nepotism rocks' funny. Like yeah it did for you and that makes you a loser.

— Cattywampuss. (@meownologue) July 17, 2017
Three overgrown children got on stage at #IIFA2017 and hollered "nepotism rocks". Real mature. Mantastic.

— Coconut Kanmani (@HazeedaVijay) July 17, 2017
@Varun_dvn ..am ur ardent fan😊 n I believe there nothing wrong in Nepotism but attacking a girl on stage by her name -Not acceptable I feel

— Monalisa (@Finallyfoundme) July 17, 2017
Speaking at an event in London a few weeks later, Karan Johar said that he was done with the 31-year-old actress playing the 'woman and victim card.'
"I accept that nepotism is a reality, that it exists. Nepotism is a result of easy access to an exceptional resource. I acknowledge that my father was a producer and that made my first film, even the idea of it, possible. But let's also not forget that I started as the son of a producer with five failures behind him," Karan said.
Meanwhile, Taapsee Pannu and 'The Black Prince' actor Satinder Sartaaj didn't miss a chance to ask Karan if they could get a role in his films or feature on 'Koffee With Karan' respectively. "It is my dream to be on 'Koffee With Karan", sir. Ek Baar Zarur Bulaana (Call me at least)," Sartaaj said.
What do you say about Nepotism? Do you support it? Share your views with us in the comments section below.