Paul Rudd Reveals His Secret To Appear Ageless
Paul Rudd, the teen heartthrob in Clueless, the soul-mate of Phoebe in the super-hit show Friends, and Marvel's Ant-Man, seems like he does not age.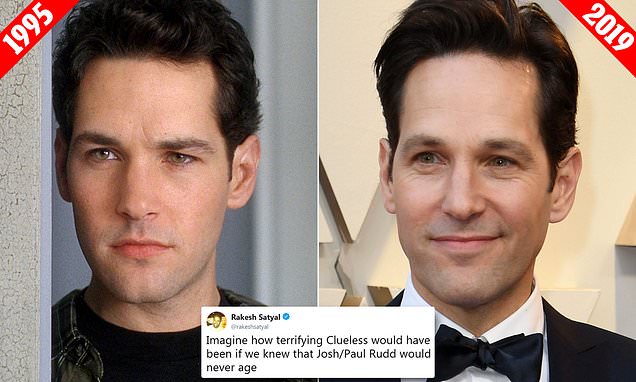 The man is 50-years-old but looks like he's 25, that's half a century!! And yet he still looks like a cutie patootie that a 13-year-old girl would have a crush on.
Many ask how he manages to do it, and in a recent Clueless reunion, Paul decided to reveal his secret of keeping his good looks throughout all these years.
When Paul was asked to reveal his secret during the Chicago's Comic & Entertainment Expo, he said, "I'm 80 years old on the inside," then he points at his chest and added, "In here, pure darkness – and a little moisturizer."
We know that Paul was joking, but still, deep inside everyone wanted to know what moisturizer he's using to maintain his glow.
On April 6, Paul celebrated his 50th birthday, many Twitter users expressed their love for him and pointed out the fact that he looks like he is still in his 30s.
Rachel Zegler, an actor said, "paul rudd is fifty years old and looks younger than me"
A Twitter user said, "I saw Paul Rudd trending and panicked for a minute. But the immortal vampire is just celebrating his 15th 35th birthday. Crisis averted."
Another added, "happy birthday paul rudd, king of eternal youth and joy. i love u with my whole heart."
Paul Will be playing as Ant-Man in the what many consider as the most highly anticipated movie of 2019, The Avengers: Endgame, which will be in cinemas this month.
Recently memes about Ant-Man defeating Thanos went viral, here are some:
Thanos when Ant-Man dives inside his ass. pic.twitter.com/mcxeqB1mzq

— christypebeat (@christypebeat) March 23, 2019
no one:

Reddit: ANTMAN IN THANOS'S ASS! pic.twitter.com/dN0SbpALCP

— a ball of anger (@shitesangiggles) March 21, 2019
ant-man going up thanos' ass to grow inside him pic.twitter.com/l0FD8VDjT0

— tina saw betrayal (@tesseractina) March 24, 2019