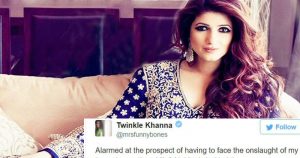 Twinkle Khanna a.k.a 'Mrs. Funny Bones' Makes 'Twitterati' Go In Laughter With Her Self-Trolling Tweet
What makes Twinkle Khanna different from other actresses is certainly her bilateral state of mind. After tasting some valuable success in Bollywood, she redirected her career into literature.
Twinkle's journey as an author is even more fruitful, earning a title 'Mrs. Funny Bones' named after her successful novel.
Her journey further took a leap forward connecting to people on her twitter handle.
Mrs. Funny Bones' latest tweet on a news article quoting her 'Coming back' into Bollywood made Twitterati burst out in laughter.
Twinkle alongside her husband Akshay Kumar recently appeared on Karan Johar's talk show 'Koffee with Karan'. There she stated that she wasn't good at acting and now she is following her heart.
Despite her onscreen appearance, her intellectual side came out when she started writing and what happened rest is known to everyone.
An English newspaper titled a news on her stating "Mrs. Funnybones returns to films". This clean title could make anyone believe that Twinkle Khanna is going to give another try to her acting skills.
The former actress straightly declined the misconception and responded to this news in a funnier way.
Alarmed at the prospect of having to face the onslaught of my legendary acting skills? Nah!only behind the camera:) https://t.co/ntR0tiKtkB pic.twitter.com/VOQbhRPpb5

— Twinkle Khanna (@mrsfunnybones) December 14, 2016
One must accept the beauty and wits of Twinkle Khanna which is a rare omen nowadays.
This tweet on her skill acceptance made netizens to laugh hard and admire her more.
However, sources claim that this time Twinkle is back to Bollywood not as an actress, but as a producer.
hahahahahha! very nice! congratulations to you! you r a multi tallented women. you deserves all the good things in the world.

— sneha das (@snehadas7561) December 14, 2016
Come in any form of cinema, either behind or front. You got the talent which gona creat humour & entertainment both 😊

— Faisal Khan🚬 (@Faizal_S_Khan) December 14, 2016
You were not that bad an actress. I think you should act in a film with Akshay. It will be fun, c'mon.

— Vani (@RandomMusings98) December 14, 2016
you surely know ur strengths 😂😂..staying behind the camera 😄😄

— desi boy (@vijsharma76) December 14, 2016
Relieved.thanks!

— Bees%Kamina (@Senthil_Blr) December 14, 2016
https://twitter.com/kapil_desai1968/status/808947567350325248
we see you in a different light today young lady, your skill improvement will surprise you. Audience will welcome you:)

— Satish Mutatkar (@SMoneeyeclosed) December 14, 2016
a special appearance would have been nice 😋

— Aysh (@custardina) December 14, 2016