Ram Gopal Varma-Manchu Vishnu Anukshanam Telugu Movie Review & Rating
Maverick director Ram Gopal Varma's upcoming Telugu crime thriller film `Anukshanam' which features Manchu Vishnu and Revathi in the main lead roles is hitting screens on September 12th. Madhu Shalini, Navdeep, Tejaswi Madivada and others playing an important roles in the movie. The film has done with censor formalities and awarded with `A' certificate from the Censor officials. Manchu Vishnu is producing the film under 24 Frames factory banner.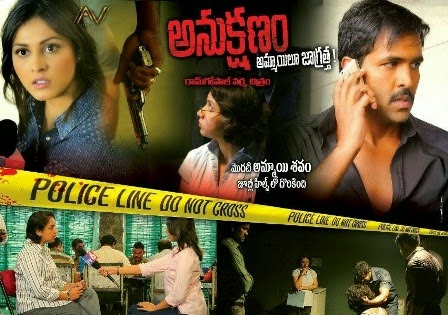 Title : Anukshanam (2014)
Star Cast : Manchu Vishnu, Navdeep, Revathi, Madhu Shalini and Tejaswi Madivada
Director : Ram Gopal Varma
Producer : Manchu Vishnu
Anukshanam Movie Story:
The concept of Anukshanam is based on serial killer(Cab Driver) who sends a wave of panic across Hyderabad city, this film is said to be first ever movie made in Telugu which is completely based on serial killer. The film starts with a murder of a young woman and her body will be recovered from a lover's park. Cops get disturbed by this incident and sets up a trap to catch the killer but before they get grip on this case few more bodies will be found. These sudden murders send a wave of terror across the city, media flares up the already scared people and the news of killings talk of the town. It starts fear in normal public and police, commissioner warns the women not to come out of their home after 7pm. This terrorize the city to its core and the city starts looking like a ghost town at night with almost empty restaurants and multiplexes cancelling the night shows. How the killer will be trapped? will the city get out of this trouble? who will help the city? what precautions police will take to bring the city to normal form? is the main story line of the film.
Rating: Coming Soon….
About the Director:
This film is directed by Ram Gopal Varma, he is well known for psychological, crime thrillers and horror films. Varma narrated a story to Nagarjuna which impressed him and made Shiva which was a blockbuster film in those times. After the success of Shiva, Varma didn't look back he went on to make movies, later moved to Bollywood and gave many hits over their as well. He won 5 Nandi awards, 2 filmfare awards and one national award. His movies Shiva, Kshana Kshanam, Gaayam, Govinda Govinda, Rangeela, Money Money, Deyyam and more are still the best in Telugu film Industry.
About the Hero:
Manchu Vishnu is son of legendary actor Manchu Mohan Babu, He debut in to Telugu film Industry with Vishnu movie. Dhee, Denikaina Ready, Doosukeltha and Pandavulu Pandavulu Thummedha are his best known films.
Highlights of this Movie:
Ram Gopal Varma's Stylish Direction
Manchu Vishnu's new look
Revathi and Navdeep roles
Suspense
Interval Twist