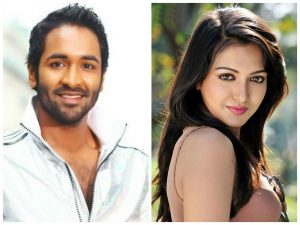 Manchu Vishnu Slapped By Seductive Alluring Beauty
Manchu Vishnu is paired up with the Madrasi heroine Catherine Theresa for his upcoming movie which is being directed by Darshaka Ratna  Dasari Naryana Rao. Very recently Darshaka Ratna  Dasari Naryana Rao revealed a scene in which the beautiful lady Catherine needs to slap Manchu Vishnu which is stated as one of the most important to the film as per the Darshaka Ratna Dasari Naryana Rao.
Erra Bus Movie Shooting:-
As per the initial reports that Catherine was hesitating to slap Mancu Vishnu while the director Darshaka Ratna  Dasari Naryana Rao and the whole movie direction crew explained her and gave her courage to shoot the best shot of the scene and how to slap Manchu Vishnu. On the other hand Manchu Vishnu is such an amazing actor he is as he supported the Catherine and coordinated well in the scene that it looked quite well natural. All credits goes to Darshaka Ratna Dasari Narayana Rao and the young blood and talented Actor, Producer Shri Manchu Vishnu as reported by one of the crew member of the movie.
Sometimes these kinds of situations assure the lovers of the movie making and the fans of the super stars and movie actors that still there are people who really strive hard to make the movie and to entertain the people across world with their amazing talent. Catherine has entertained with her acting skills and drama accompanied with her steamy and seducing beauty to fans and people of tollywood. While there has been many speculations and guesswork's are going on that what sort of movie is this which is creating a big buzz in the arena of tollywood.
However the movie crew reported that the movie is confirmed with a title Erra Bus which is Dasari Narayana Rao's 151st film. Erra Bus is a story which revolves around a Grand father and Grand son. Catherine is playing the role of a medical student in this filmThe shooting is going on at a brisk pace at Ramanaidu Studios and the makers are planning to release the film in October on the eve of Dasara.