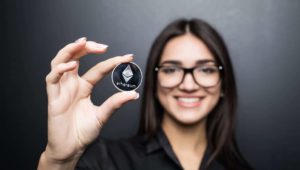 Blockchain Enables Financial Inclusion for Women, according to Yahoo! Europe Founder
Blockchain technology is rapidly being known as "the next big thing since the Internet," and rightfully so. Beyond its public, immutable ledger system that provides utmost utility for all kinds of industries, it can also serve as a fix for societal issues. One of these issues is women's rights.
Dana Al Salem, the founder of Yahoo! Europe, stands firm in her advocacy that blockchain can be used as a platform to promote women's rights, as well as enable financial inclusion for women.
Al Salem is also the founder/co-founder for multiple agencies across different states and is an advisor to leading venture capital fund SPiCE VC. She is heavily invested in the blockchain sector as an international innovation expert and a serial entrepreneur. Al Salem is proof that women in blockchain exist, and they can excel and rise to the top echelons of the industry.
With her extensive expertise across multiple sectors, Al Salem is a representative advocate not only for women in blockchain, but for the technology in general. Blockchain's flexible nature can be considered as a technical backbone for platforms across different sectors. "That's why I like blockchain because it is (industry) agnostic. You can apply it to agriculture, to shipping, to so many (different) sectors."
Women's inclusion, particularly when to comes to the financial aspect, emerges among the sectors Al Salem speaks of. "Through any kind of digital IDs, anyone can open a crypto wallet and enjoy its multitude of benefits. With the harrowing state of women employment worldwide, blockchain allows them to go beyond their limitations and enjoy access to bank accounts."
"You can open a crypto wallet with some kind of digital ID. You don't need any banking fees or maintenance fees. And let's not forget that a majority of women around the world are in part-time jobs or what's considered informal employment. They can't even get access to bank accounts in a traditional banking environment," Al Salem added.
The issue of IDs hampering women's financial prowess is addressed through inclusive crypto wallets on blockchain. Women are thus given more benefits and a better shot at financial freedom. Al Salem adds that, beyond land and ownership, blockchain is also a perfect fit for various contracts, especially marriages.
Inheritance disputes and land squabbles are common deal-breakers among wedded couples across differing areas in the world. In many conservative and religious traditions, marriage explicitly remains patriarchal. Thus, with the help of the blockchain's immutable ledger, transparency will be upheld.
"Imagine everyone put their wedding contracts on the blockchain. You wouldn't have these inheritance disputes and you wouldn't have women having their land taken away from them because (they live) in a patriarchal society. You would have everything transparent on the blockchain. And it would be defendable," said Al Salem.
Currently, there is a band of women entrepreneurs and blockchain enthusiasts, specifically for Bitcoin SV (BSV), collectively coins themselves as the Women of BSV. These women aim to spread the BSV message of scalability and create a healthy space for women in a traditionally male-dominated industry.
In every industry, there exist women leaders who advocate for better opportunities for women. Not only are these efforts for representation, but for real changes and acceptance in industries where men are mostly lauded. Financial freedom and inclusion would be possible in this digital space once leaders such as Al Salem and the Women of BSV remain resolute in their advocacy.