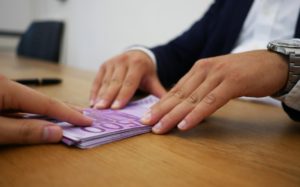 Reasons for Taking a Professional Loan for Doctors
Why take a Professional Loan?
Doctors often have a fast-paced lifestyle and many requirements. There are many reasons for availing of a Professional Loan for a doctor- to improve one's practice, enhance professional skills, consolidate high-interest debt, pay for personal events, fund overseas trips, handle emergencies, and renovate one's set-up.
Doctors need financing and funding for a variety of reasons. Some reasons for doctors to need a Professional Loan are:
Procuring new equipment
Medical equipment is expensive but adapting to the latest technologies is essential to ensure proper healthcare services. A Professional Loan also helps in acquiring office equipment such as additional furniture, computers, or assets such as ambulances.
Improving or expanding an existing clinic:
A lack of funds may make the expansion or improvement of a clinic difficult. An affordable Professional Loan helps focus on the clinic's growth and ensures the patients' well-being. Acquiring new space for a clinic is also made more accessible.
Staffing:
Hiring well-trained medical staff is expensive and competitive. The right team helps accelerate growth exponentially. A professional doctors loan helps ensure suitable personnel.
Working capital:
A professional doctor's loan can help meet the working capital requirements of a hospital/clinic. Handling medical emergencies becomes more manageable with increased funds.
Consolidating high-interest debts and funding personal expenses:
Payment for higher education, funding overseas trips or conferences or conventions, renovations of office spaces, and private financing events such as weddings become easier with their loan.
Features and Benefits of the Professional Loan:
A multi-purpose sanction of up to ₹30 lakh:
Whether operational costs for running a private practice or professional development courses, Professional Loan helps fund all needs without restrictions. They offer a higher loan amount of ₹30 lakhs.
Competitive interest rates:
Lenders such as Poonawalla Fincorp offers Professional Loans at pocket-friendly interest rates starting at 10.99% per annum to keep costs low.
Hassle-free processing:
The Professional Loan process has minimal documentation needs, availability of the online application and quick approvals to ensure a time-efficient, digitized system.
A collateral-free loan:
No assets need to be pledged for security. Submission of primary documentation and online application ensures acquiring a Professional Loan.
Flexible tenure of up to 60 months:
The debt repayment window on the Professional Loan has a flexible tenure of up to 60 months
No hidden costs:
Poonawalla Fincorp prides itself on its integrity, trust, and transparency. No hidden charges are applicable on their Professional Loan.
Foreclosure benefits and complimentary prepayment:
To be able to divert gains or disposable income towards debt repayment in cost-effective ways is made easier with the Poonawalla Professional Loan. The client can partially prepay or wholly foreclose a Professional Loan without penalty or extra charges.
Special offers:
Many unique or exclusive loan deals are available based on a client's financial profile.
The charges applicable on a doctor's Professional Loan:
Interest rates
Availing a cost-effective deal is easy. Poonawalla Fincorp Professional Loan interest rates start at 10.99% p.a. and are among the most competitive in the market. With a solid financial profile, they help handle expenses affordably.
Processing Fees
Poonawalla Fincorp levies a processing fee between 0% and 2% of the approved sanction. It is just a nominal fee for processing the client's application. It is decided based on the credit profile and loan eligibility.
Prepayment charges
No foreclosure charges or part-prepayment are applicable. The client can partially or completely pay off debt before tenure whenever they have disposable income, plus save on interest at no additional cost.
Late payment penalty
Defaulting on loan EMIs attracts a penalty, which splits into two charges:
Bounce charge: This is ₹500 per bounce, plus taxes.
Penal interest: This is 3% charged on the overdue amount.
Lenders offering Professional Loan understand medical professionals' multiple needs and strive to fulfil them with the utmost integrity, transparency, and ability. Time is of the essence for medical professionals, and they ensure a smooth operation to lessen the duration spent on acquiring a loan.