2 Madhya Pradesh Sisters Marry 35-Year-Old Man In An "Unusual Wedding"
A 35-year-old Indian man from Bhopal, Madhya Pradesh, decided to remarry his wife and marry his cousin at the same wedding ceremony in a village in Bhind District.
The incident reportedly happened on November 26, 2019, in the Gudawali Village.
The incident came to light after a video of it went viral on social media.
In the video, you can see 35-year-old Deepu Parihar getting remarried to 28-year-old Vinita, his current wife, who is also the sarpanch (village head) of the Gudawali Village.
He also got married to 22-year-old Rachna, the cousin of Vinita, in the same wedding ceremony.
In the video, Parihar can be seen garlanding the 2 women.
Deepu got married to Vinita 9 years ago but tied the knot once again after marrying her cousin.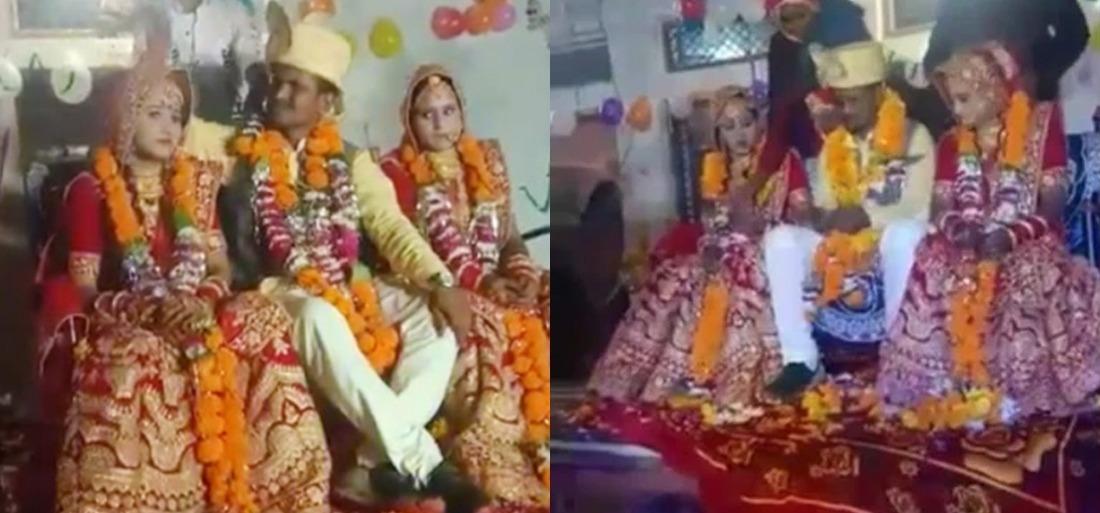 Deepu, the man in the video, said he asked Vinita if it would be okay for him to marry her cousin, in which she said it was okay.
Explaining the unusual marriage, Deepu said Vanita has health problems and wanted someone to take care of their children, hence, he got married to Rachna.
Deepu and Vinita have 3 children, 2 girls, and 1 boy, together.
Deepu said, "Vinita is unwell and wanted me to marry again so that someone can look after our three children."
What Is This Marriage?
Bigamy is the condition of having 2 wives or 2 husbands at the same time. The second marriage to someone who is already legally married is void and may be annulled, while there is no effect on the first marriage.
Bigamy is prohibited under the Hindu Marriage Act and Section 494 of the Indian Penal Code. The law states that whoever marries someone else even after having an existing wife or husband should be considered void and will be punished for the act.
Bhind's Superintendent of Police, Rudolf Alvares, said no complaints have been received so far.