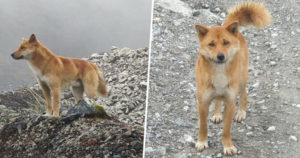 Ancient Breed Of Singing Dog That Was Extinct In The Wild Spotted In The Wild For The First Time In 50 Years
An ancient breed of singing dog that was thought to have gone extinct in the wild has been spotted in the wild for the first time in the last 50 years.
The New Guinea Singing Dog is known for making harmonic sounds comparable to those that are made by a humpback whale with its high-pitched barks and howl was spotted.
It was originally thought that they went extinct in the wild 50 years ago.
Around 200 of the rare singing dog breed live in conservation centers or zoos around the world.
It was initially believed that the dogs were captured in the 1970s. but now, the dogs have been spotted in the wild again.
Scientists spotted a pack of wild dogs that resembled the New Guinea singing dog in the remote highlands of Papua Indonesia in 2016.
A further expedition revealed that they returned to the study site in 2018 and collected blood samples from the 3 canines.
A demographic, psychological, and behavioral data was done to make sure that the dogs were related to the Singing Dogs.
According to research that was published on August 31, 2020, a comparison of DNA said that the dogs that were studied are related to the very rare dogs.
The genome sequences of the dogs were not identical. It is said that the dogs had a 70 genetic overlap with the captive population.
The researchers believe that the highland dogs are the original New Guinea singing dog population.
Elaine Ostrander, senior author of the paper and investigator at the National Institutes of Health, said:
The conservation dogs are super inbred. [It] started with eight dogs, and they've been bred to each other, bred to each other, and bred to each other for generations – so they've lost a lot of genetic diversity. They look most related to a population of conservation biology new guinea singing dogs that were descended from eight dogs brought to the United States many, many, many years ago.
The researchers now want to breed some of the newly discovered wild dogs with the New Guinea singings dogs so that they could preserve the original breed. This could be creating by generating a true New Guinea singing dogs population.
The researchers said that New Guinea singing dogs are rare and they are exotic. This is because they have beautiful harmonic vocalization that you will not find anywhere else.
Talking about the dogs and their importance, Ostrander said:
New Guinea singing dogs are rare. They're exotic. They have this beautiful harmonic vocalisation that you don't find anywhere else in nature, so losing that as a species is not a good thing. We don't want to see this (animal) disappear.
Let's all hope that there will be breeding program for these dogs and that they will not go extinct in the near future.