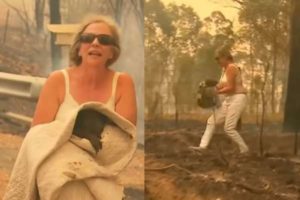 Hero Woman Risks Life To Save Burnt Koala From Australian Bushfire
A hero Australian woman risked her life to save a burnt koala amid the raging bushfires that are taking place in South Wales.
The heart-stopping rescue was caught on cam, and the video shows the koala crossing the street, heading towards burning trees.
Tony Doherty, the hero Australian woman, saw the koala going to the wrong direction and she immodestly decided to take action.
Tony rant into the woods from her car and wrapped the koala in the shirt off her back.
After getting into safety, Tony poured water all over the poor koala to cool off its burns.
During an interview with the local press, Tony said, "He just went straight into the flames, and I just jumped out of the car and went straight to him."
Tony named the Koala as Lewis, which is the same name as one of her grandkids.
She also brought the injured Koala to the Port Macquarie Koala Hospital.
Talking about why she saved the Koala, Tony said, "Just natural instinct."
She added, "I knew if we didn't get him down from the tree, then he would have been up there amongst the flames."
The spokesperson of the Port Macquarie Koala Hospital said Lewis is still in a serious condition.
The spokesperson believes it is a "50-50" probability at this stage.
The spokesperson said, "His feet are completely burnt and he has burns to his chest and stomach."
The spokesperson added, "He has been bandaged and given antibiotics but will take a lot of looking after, if he pulls through."
The raging fires have reportedly killed hundreds of Koalas.
The fire is still ongoing in the Port Macquarie Region.
Thanks to Tony, there is a huge possibility that the Koala may survive and may go through rehab.
Stay strong Lewis.