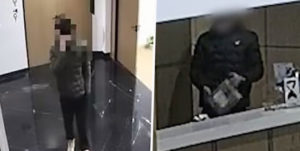 Chinese Man Steals Speakers So He Can Get Arrested And Avoid Marrying His Girlfriend
We know marriage is something that can stress the heck out of a person, but something that is worse than that is when the marriage is being forcefully done.
A man in China was in that situation.
Mr. Chen, a man from China, was not feeling the love with his girlfriend so he decided to do something that would blow your mind.
Mr. Chen thought that his girlfriend wouldn't be happy with him if she found out that he had been arrested for stealing something.
To channel the girlfriend away, Chen went into a dance studio in Huashan Road in Shanghai and stole a speaker.
The local police managed to track him down on the same day and arrested him for theft.
Upon investigation, the police couldn't believe their ears when Chen revealed the real reason why he stole the speakers.
Chen said he stole the speakers, which are worth around $290 USD because he didn't want to marry his girlfriend.
Chen told the police officers at the Xinhua Road Police Station: "My girlfriend wants to marry me, but I don't want to marry her. I knew I would be caught. I actually wanted to walk away, but I was angry."
He added, "My girlfriend wants to get married, but I don't want to. I knew you would find me, though I didn't think it would be so fast."
Chen admitted that he stole the speaker.
He said he targeted the speaker because it wasn't that expensive.
Chen is still in custody, but authorities said he won't be there for a long time as he committed a minor offense.
It is still not clear what happened after the incident.
Do you think Chen and his girlfriend broke up? Tell us what you think by leaving a comment below!