Wimbledon Champion Novak Djokovic is Still Struggling For Fanlove
On Sunday Novak Djokovic scored an emphatic victory over crowd favourite Roger Federer in the Wimbledon final. For that unpopular victory against crowd favourite is an reason alone, he will have upset many tennis fans. Novak Djokovic who won his Nine Grand slams still struggle to get the fan love he deserves.Perhaps he deserves extra credit in the record books. But what is indisputable is that he keeps climbing higher in them.There's admiration, but the adulation that Federer and even Nadal command still eludes the World No. 1.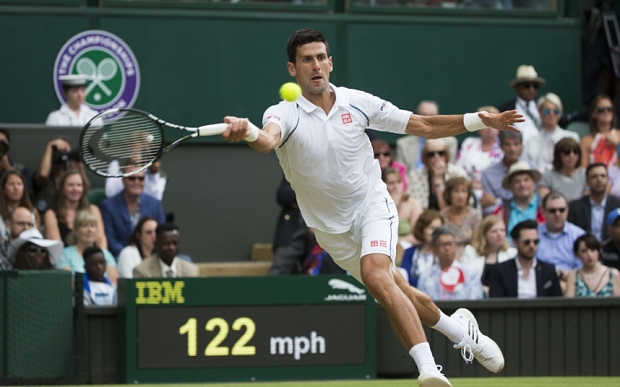 Sunday's 7-6 (1), 6-7 (10), 6-4, 6-3 victory over Roger Federer, which gave Djokovic a third Wimbledon title and his ninth Grand Slam singles title, was not what most of the Centre Court crowd was craving.Federer, one of the most beloved figures in sports, who will turn 34 next month, hit many a high note on his way to the final and in an extraordinary second-set tiebreaker on Sunday in which he saved six set points to level the match.
"Novak has shown he can play totally unimpacted, totally uninfluenced by everything around him," Federer said.A poll published just before the final indicated that 75 per cent of Wimbledon fans were supporting Federer. The true number seemed closer to 95. Indeed, the only way the atmosphere could have been more overwhelmingly Swiss was if the debenture-holders had all been given cowbells to ring. Djokovic, pressed on the lack of affection from the stands, showed admirable restraint. "It doesn't bother me," he said. "I expected it coming into the match. It's normal, because Roger is a champion on and off the court.
"He's a very likeable guy, and he is somebody who has played at this level for many more years than me. More or less anywhere I play against Roger, it's the same. I have to accept it. I have to work to earn the majority of the support – maybe one day."
But that is not all. Djokovic has, over the years, tried many things to endear himself to crowds around the world. A few years ago, before he became the dominant force he is now, he was so renowned for mimicking fellow players that he was requested to do so after every final. His impersonations of Rafa Nadal and Maria Sharapova drew laughs and established his reputation as the tour clown.But Djokovic became more and more focused on his game, changing his diet and regimen and hiring a new team. Over the past few years, we have seen The Djokovic give up his entertaining act and grow into the undisputed world number one.
Winning, but losing
Winning his third Wimbledon title, and his ninth Grand Slam, the Serb extended his lead in the rankings to more than 4000 points. His utter domination of the men's game right now has to be admired. After all, he rose to the top in the era of two of the game's finest players, Nadal and Federer. And yet, now that he seems almost invincible, instead of embracing him, tennis fans compare him to robots and machines.
Must Watch: D for 'Daaru', P for 'Piyo': A Drunk Teacher's Class
The poor guy just keeps on winning on the court, but off it, when it comes to popularity, he just can't seem to win. He has been criticised by fans for wearing flashy clothes, for having a strange sounding name (seriously!) and even for his spiky hair. This seems a little absurd especially in the light of all that he has to offer to the sport.
After a distressing defeat in the French Open final a few weeks ago, Novak Djokovic had declared his intention to turn things around at Wimbledon. Djokovic answered all those questions on Centre Court. The first two sets were very competitive with the players trading tiebreaks. At that point most fans may have hoped for another epic encounter. But the world number one proved too strong for the Swiss veteran.Today Djokovic is probably the fittest player on tour. Even comparisons to machines are a testament to the hard work he's put into his career to go from being a perpetual number three to an unbeatable number one.
A pleasant man as well as a superb player
Off court, Djokovic continues to make jokes and be affable. Each time he wins Wimbledon he kneels on the grass and puts a tiny bit into his mouth, a delightful quirk. He is gracious in defeat and circumspect in victory. He tries his best to entertain crowds with humour.
At 28, Djokovic is also a family man. He and his wife Jelena Ristic were married and welcomed a baby boy last year. Fatherhood has not distracted him from his goals, however. While Nadal and Federer are slowly but surely winding down, Djokovic is on the rise.
He is going to continue to dominate men's tennis and win slams for a few years. At the rate at which he's going, he might well overtake Nadal's tally of 14 slams and close in on Federer's record of 17. These achievements don't come automatically but are a result of steely determination and unrelenting preparation.
After this year's French Open final, when he went up to receive the runner's up trophy, Djokovic was moved to tears by the lengthy applause from the crowd. As fans recognised his desire to complete a career slam there and tried to comfort him in his moment of despair, he may have, for the first time outside Serbia, felt truly loved. He deserves that. Because after all, he's no robot, just one of us who also happens to be the best in the world.