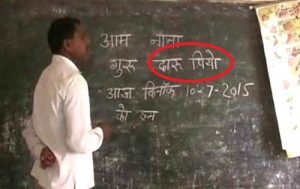 D for 'Daaru', P for 'Piyo': A Drunk Teacher's Class in Chhattisgarh [Video]
Teacher who are supposed to teach the definitions of good and bad has gone a way long in strange manner . A teacher in Chhattisgarh has a different way of teaching for government-run primary school children where D for 'dog' and P for 'pig' is replaced with D is for 'Daaru' (alcohol) and P is for 'Piyo' (drink).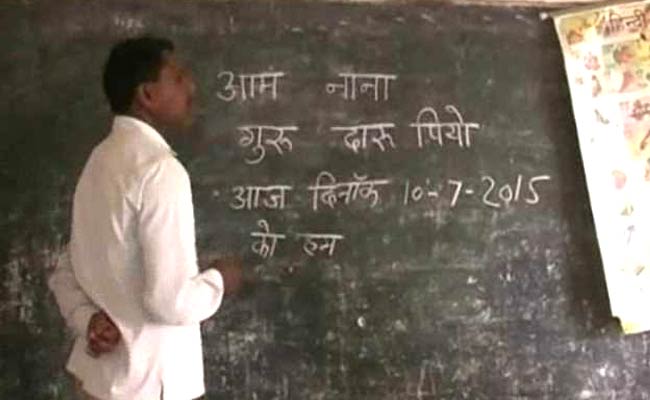 According to the reports , A teacher in a school was filmed teaching D for 'daru' and P for 'piyo' in Korea district that went viral on Sunday, has got a different twist also. Shivbaran, a teacher at government primary school at Murma Pandopara, about 12 km from Korea district headquarter of Baikunthpur, was filmed by some local journalists on Friday allegedly teaching children D for ' daru' and P for 'piyo' and asking students to repeat the words many times over.He even confesses on camera that he was drunk at the time, and had come to school drunk on many occasions earlier.When questioned about his style of teaching, Shivbaran said brazenly, "I also teach them according to syllabus."
He, however, later apologised for being drunk. "No I have given up drinking long ago. I admit my mistake I will never come drunk to school and teach students," he said.When contacted Korea district collector Sanjev Jha said that soon after getting to know about the incident he had instructed the cluster academic coordinator and the block resource coordinator to investigate the matter.
Preliminary reports that he has received mention that there are two teachers at Mumra Pandopara government primary school. One is Shivbaran and the other is Ramdass. There have been complaints against Ramdas in the past with regard to being absent and irregular, said Jha, adding that so fat Shivbaran's record has been good.
Also Read : Money Breaks Relationships, Plays Havoc with Children's Lives 
Jha further said that as per some local people there was nothing wrong in what Shivbaran was teaching the children and it was later that some some other students had written the words ' daru' and ' piyo' on the blackboard under the words ' aam' and ' guru' which Shivbaran had written was teaching.Jha also said that he is expecting a written report about the whole incident by Monday only then the course of action will be decided. In the meanwhile, district education officer Kamayani Kashyap is also expected to visit the said school on Monday and investigate the matter further, added Jha.
"Being drunk at the work place is against the ideal behavior of a government official especially for a teacher. If this has been done by a teacher then we will investigate and take strict action against him." District collector of Korea Sanjiv Jha said.