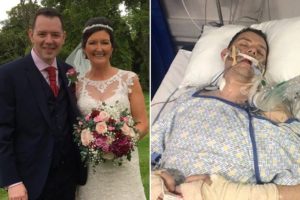 Groom Could Not Remember He Was Married After Waking Up From 10 Day Coma
Chris Mallon, a groom, fell 12ft through a hotel banister on his wedding night and was in a coma for 10 days, but after he woke up from his coma, he says he doesn't remember he was married.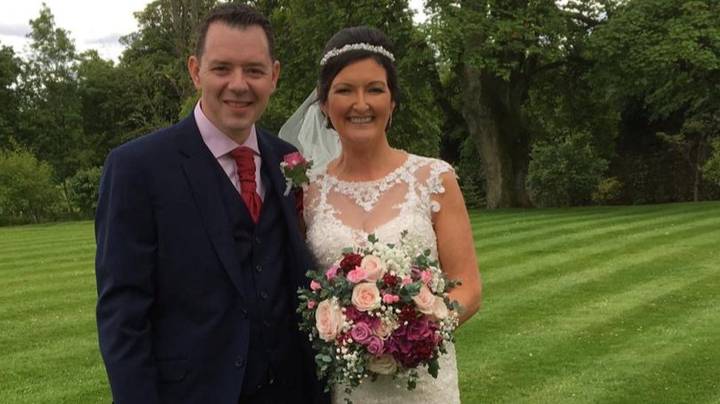 The 49-year-old groom tripped and fell as he was helping a hotel porter carry their wedding gifts up to their honeymoon suite.
The couple was staying at the Macdonald Houstoun House in Uphall, West Lothian, Scotland.
The fall caused Mallon to have a broken back, fractured skull, dislocated shoulder, fractured shoulder, broken hand, heart bruising, and lung bruising.
Mallon was rushed to a hospital in Uphall and doctors said he was in a state of coma.
Mallon woke up 10 days after he went into a coma and has no recollection of his marriage with 43-year-old Avril.
Avril stayed by his side for 10 days.
Chris Mallon shared what he remembers.
He said, "I only had a couple of drinks through the whole day. There's a railing with one bar underneath with about a half-metre gap below. My foot caught the top of the step and fell forward, the next thing I remember was waking up in hospital ten days later."
When Chris fell 12ft through the hotel banister, he landed on his back.
The doctors compared his injuries with those people who survived a car crash.
Avril saw Chris falling, she kept a vigil by the side of her husband until he woke up.
During an interview, Avril said, "I could see him come round but really, really confused – he didn't even know we were married. I was singing our first dance and he started singing it with me – that was a lovely moment."
It took one month for Chris to be able to go back to his home at East Calder, West Lothian.
Medical experts were stunned when they saw Chris forcing himself to start walking again despite the injuries he sustained from the horrific all.
Chris said, "I don't know if it was the nature of the injuries or my nature but I forced myself up quite quickly to try to walk. I was able to move. The physio very gingerly stood me up and the next two days I started taking a couple of steps."
Chris is an administrator at the Livingston Firm Energy Assets, doctors said he is still not ready to go back to work.
The doctors said Chris might have to give up badminton.
Chris says the worst thing about the back injury is that it stops him from his son Alex.
He said, "It's the hardest part, it's been awful. I can't lift him and can't give him a cuddle. It's difficult for me to play with him as well because I can't go down on all fours, it's really quite painful."
After the fall, Christ lost the hearing in his left ear.
He also lost 2 senses after the fall, he can't smell and taste no more.
Avri, the wife of Chris, is amazed by the recovery of her husband.
Avril said, "From where he was and where we are now, it's a miracle, and I do believe in the power of prayer. He's got a way to go but he's here and that's amazing."
Avril and Chris met first in 2014, they got engaged last year.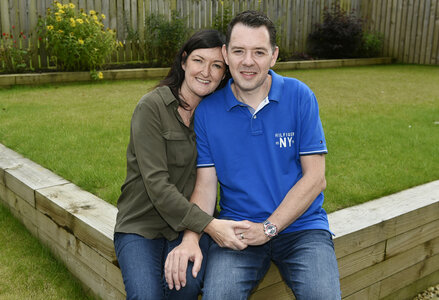 The two also had to cancel their honeymoon in Dubai.
Our thoughts and prayers are with Avril and Chris, we hope Chris makes a fast recovery.