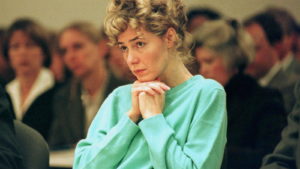 Mary Kay Letourneau: Teacher Who Married 12-Year-Old Boy She Raped Dies At 58
A disgraced teacher from the United States of America who gained infamy after she lured a 12-year-old pupil into a sexual relationship who she later married has died of cancer.
Mary Kay Letourneau was 58.
Attorney David Gehrke, who was representing Attorney David Gehrke, said that the teacher had been battling stage 4 cancer.
During a press release, he said:
It was expected but sad anyway. She was a good person.
Mary Kay Letourneau, a former Washington State teacher, was 34 years old and the mother of 4 kids when her relationship with Vili Fualaau became sexual in June of 1996.
The relationship was discovered after police officers found Mr. Fualaau and Mary Kay Letourneau in a minivan that was pared in Des Moines Marina, in suburban Seattle.
Initially, the teacher told the police that the boy was 18, which raised suspicions that the pair had been engaged in sex.
During questioning at the police station, the 14-year-old kid said that there had been no touching or sexual activity.
Instead, the 2 said that the teacher was babysitting the 14-year-old boy and took him from her home after she and her husband got into a fight.
After 2 months, the teacher became pregnant with the child of the 14-year-old boy.
The woman pleaded guilty to raping the boy the next year.
Audrey, their daughter, was born as the teacher was awaiting sentencing.
The sentence of the teacher was reduced to 6 months via a plea deal, however, 2 weeks after getting released from prison, the police caught her having sex with the teen in a car.
She was jailed once again and was handed a 7-year prison sentence.
While serving a seven-year prison sentence, the teacher gave birth to Georgia, their second child, behind bars.
The children were raised by the mother of Fualaau until the teacher got released from prison.
The teacher then married Fualaau in 2005 in Washington State.
Their 14 year marriage ended last year.
During an interview with the press in 2013, Fualaau said he did not see himself as a rape victim.
He also said that he did not see Mary Kay Letourneau as a sexual predator.
He added:
I'm not a victim. I'm not ashamed of being a father. I'm not ashamed of being in love with Mary Kay.
In August last year, the couple got divorced.
Fualaau recently admitted that their relationship was not healthy.
A close friend to Fualaau told PEOPLE:
He's starting to get some perspective. He sees things clearly now, and realises that this wasn't a healthy relationship from the start.
She was the daughter of conservative Republican Congressman, John G. Schmitz.
The political career of Schmitz was ended after the scandal.