Volunteers Pictured Cleaning Dirty Canals With No PPE Despite Rubbish And Black Smelly Water
Cleaners in Bangladesh were caught on cam cleaning the dirty canals of the country with no protective equipment as they swam in the black smelly water, where rubbish could be seen floating.
It is said that the cleaners in the pictures are volunteers.
They could be seen swimming in the rubbish while just wearing plastic bags on their head for protection.
The water they are swimming in was a dirty canal, where huge chunks of plastic materials and black smelly water could be seen.
The incident happened in Savar, which is 24 kilometers North-West of Dhaka, the capital of the country.
The huge amounts of bags, plastic bottles, food wrappers, and other wastes reportedly came from general households.
According to a report, cleaners dumped domestic, plastic, industrial, and medical waste at 50 spots by bodies of water.
So far, they have collected 200 tons of waste every day from the area.
To stop people from dropping off the waste in the area, the government did something last year.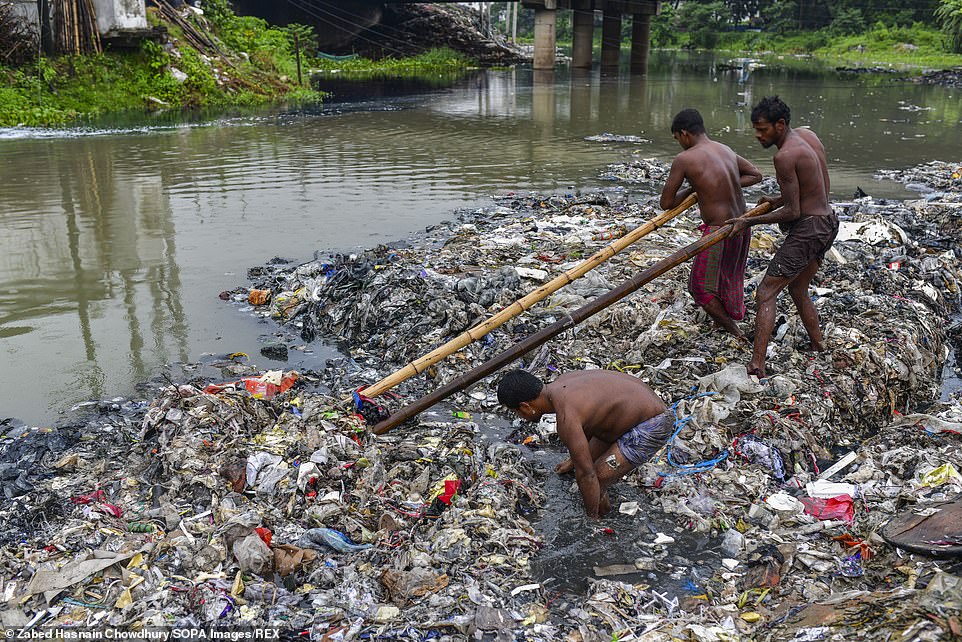 The Bangladeshi High Court declared that all of the country's rivers have the same legal status as a human being.
They did this in a bit to stop people from damaging the environment.
The status helped the government 15,175 illegal structures from getting removed from the ports in Buriganga, Turag, Balu, and Shitalakkhya rivers.
As a result, 556.12 acres of riverbanks were restored, said State Minister for Shipping Khalid Mahmud Chowdhury.
During an interview with the press, secretary at the Water Resources Ministry Kabir Bin Anwar said:
We will not stop until we evict all 44,000 illegal structures. Every district administration has worked tirelessly for a year to compile this list of illegal encroachment. We have also set up a control room dedicated to this task in the ministry. We will install walkways and plant trees to deter people from encroaching on these territories again.
Abdul Goni, the mayor of Savar, said that there was not a specific waste area until now, which led them to take everything in the lowlands.
Not only that, but the government has another thing to do.
The municipality has signed a deal with a Finland Company that specialized in waste management.
It's good to see that the government in Bangladesh is doing something to combat plastic pollution.
Do well, and good things will happen!