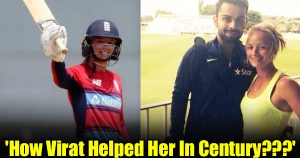 Danielle Wyatt Smashed Her Second T20 Hundred Of Just 52 Balls, This Is How Twitterati Reacted
Daniel Wyatt… We all are well aware of who she is? Mainly Virat Kohli fans… She openly expressed her feelings on him after his dream run T20 World Cup 2014, She tweeted "Marry Me, Kohli!" On her official Twitter account. But sadly Virat was already in a relationship with Bollywood Beauty Anushka Sharma by then, And both got married recently as well.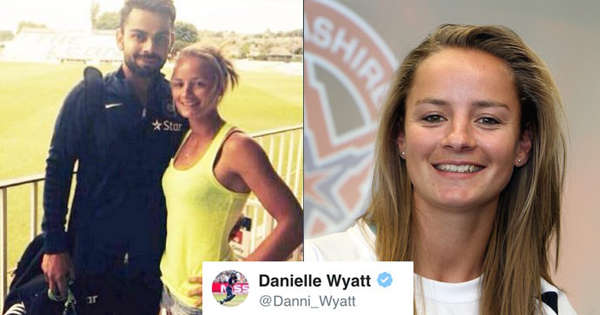 But she always praised him whenever he played well and created records, She even got famous among Virat Kohli fans as well, Recently she came to India to take part in ongoing India vs England vs Australia Tri-series, Part of this tour she visited Mumbai and tweeted about that, And the fans teased her by saying she is just 12Km away from Virat Kohli, Whenever she tweets there will at least one person who brings Virat Kohli topic even if it is nowhere near related to him.
In last T20 game vs India Danielle Wyatt scored 124 of just 64 balls to ensure England a win after being asked to chase a mammoth total of 198 in 20 overs, She opened the innings and faced Indian bowlers fearlessly by hitting blistering 15 boundaries and 5 sixes in her 124 runs knock, Before that India managed to score 198 of 20 overs thanks to Smrithi Mandana's 76 and Mithali Raj's 53.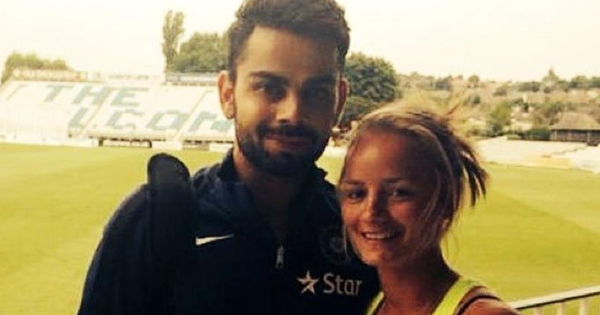 Wyatt remarked that this hundred is special because with this she became only the second women cricketer to have Two International T20 hundreds, She also said "This hundred was quite special because my dad has flown all the way to see my knock. I've worked really hard with my coaches. Fitness was a big factor, kept pushing myself. I would like to try and keep going from here,". After this innings Twitterati took to her account and started linking her with Kohli as usual, Once Kohli met her and gave her a signed bat, And people started saying that Wyatt scored her Hundred with the Bat gifted by Kohli, And this news is making quite a trend as well, But no one actually knows whether she scored that hundred with the same bat given by Kohli or not. Let's have a look at all those tweets.
Well near of her Second 100*
Just 6runs behind. Come on girl chase it like Kohli with his Bat👌😍🙏@Danni_Wyatt

— Sharmistha(Viratian)😍 (@ImSharmi7) March 25, 2018
Virat Kohli's bat seems to be serving Danielle Wyatt quite well

— Visrudh (@skinnyviz) March 25, 2018
@Danni_Wyatt million dollar question from billions of Indians is had you batted with same bat that was gifted by @imVkohli to you in today's match?????
Any way congrats on terrific innings

— M.A.MAJID SIDDIQUI (@Safi7473) March 25, 2018
Danielle Wyatt showing the power of Virat Kohli fangirls 😍

— pranita (@dilsekohli) March 25, 2018
💯 for @Danni_Wyatt against Indian Women's cricket team from the bat @imVkohli gifted her when she proposed to him… #INDWvAUSW #IND pic.twitter.com/CTXB0hLLO7

— #CA Praveen (@SLCpissek) March 25, 2018
We want Danielle wyatt in RCB

— Kohli The Warrior🏏 (@Cricketisluv) March 25, 2018
Wyatt has 2 T20I 100
Kohli has 0. @Danni_Wyatt >> @imVkohli

— Parshva🏏 (@Parshva7939) March 25, 2018
1st time watch u bat..will love to see u and kohli opening for RCB in future..

— SD2 (@sagardabdghao) March 25, 2018
You May Also Like: