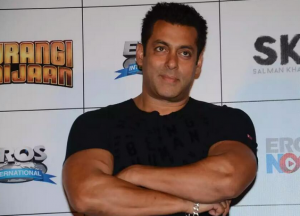 Bajrangi Bhaijaan gets over 40k likes on its Youtube Trailer and Salman Fans Celebrate this occassion by Tweeting #Fastest40KLikesOnBBTrailer
As we all know the trailer of Bajrangi Bhaijaan is out which has exploded the Social Media. Now this trailer has set a new benchmark to all the upcoming movies. i.e the trailer has grossed over 40,000 likes on its youtube channels. There are two trailers so as a whole the two trailers have got over 40,000+ likes.
This is an auspicious moment for all his fans and his fans start tweeting with hashtag #Fastest40KLikesOnBBTrailer which is now trending top on twitter.


The below is the trailer:
Below you can see the screenshots of the trailer whopping 40k+ likes on Youtube Channels:
Tweets exploded on Twitter with a lot of support. This surely says that the movie would open big at box office. Let us know what do you think about the trailer in your comments.