Bumper Draw Movie Review, Rating – Rajpal Yadav, Omkar Das Manikpuri, Zakir Hussain
Bumper Draw Hindi Movie Review and Rating: Bumper Draw Hindi movie has been released globally on October 16, 2015 and is running successfully in all theaters. Directed and produced by Irshad Khan under the banner of 'Black Stone Entertainment Black Pearl Movie Pvt.Ltd Bumper Draw Hindi movie is a comedy entertaining film and ends with a good moral message. Watch out Rajpal Yadav's Bumper Draw Hindi movie in your nearby theaters following the below-cited movie review, rating and audience response over the latest flick.

Bumper Draw Hindi Movie Rating: /5
Bumper Draw Hindi Movie Cast and Crew:
Cast: Rajpal Yadav (Farooq), Zakir Hussain ( Gali Babba), Subrat Dutta (Villium), Rushad Rana (Nariman), Bomi Dotiwala (Pestonjee), Omkar Das Manikpuri (Sunderlal), Seema Azami (Komal Bai), Abhishek Ingale (Rafiq), Deepa Sethi (Priya), Reena Charnya (Sharmila), Narendra Bedi (Dr. Y I M Bedi), Harish Kumaar (Haricharan), Sitaram Panchal (Vaman Bhalerao), Hrishikesh Joshi (Inspector Parab), Meera (Pakistani Actress- Item Song).
Director: Irshad Khan
Script: Rashid Khan
Music Composer: Rahul Mishra,
Cinematographer: S. Kannan
Editor: Rohit Dhiman
Production Company: Blackk Stone Entertainment, Black Pearl Movie Pvt. Ltd.
Date of Release: October 16, 2015
Country: India
Language: Hindi
Genre: Comedy, Drama
Duartion: 2 hrs 10 mins
Bumper Draw movie Story:
The latest flick of Bollywood, comedy entertainer Bumper Draw Hindi movie featuring (Farooq) and Omkar Das Manikpuri (Sunderlal) in the lead roles, majorly goes along with their character. Farooq and Sunderlal turn out as friends under very strange circumstances in the movie. Major comedy in the film starts out with the entry of Munna Bhai MBBS fame, Bomi Dotiwala (Pestonjee) making the lives of Farooq and Sunderlal distressful. However, the rest of the movie gets unveiled till the climax about how Pestonjee helps Farooq and Sunderlal to come out of biggest trouble of lives gifting good amount of money.
Bumper Draw Hindi Movie Review:
Bollywood's well-known comedy actor Rajpal Yadav has entertained at his best along with many other characters in the movie Bumper Draw. Movie buffs who have watched many of Hindi movies would be able to approximate that a minor part of Rajpal Yadav Bumper Draw film is a tragicomedy of sorts and along the lines of Hera Pheri and Dhamaal. This comedy entertainer film featuring the distressful lives of a few lunatic characters who turn out lucky overnight by acquiring a large sum of money in an easy way to pay off their debts and get rid of other problems.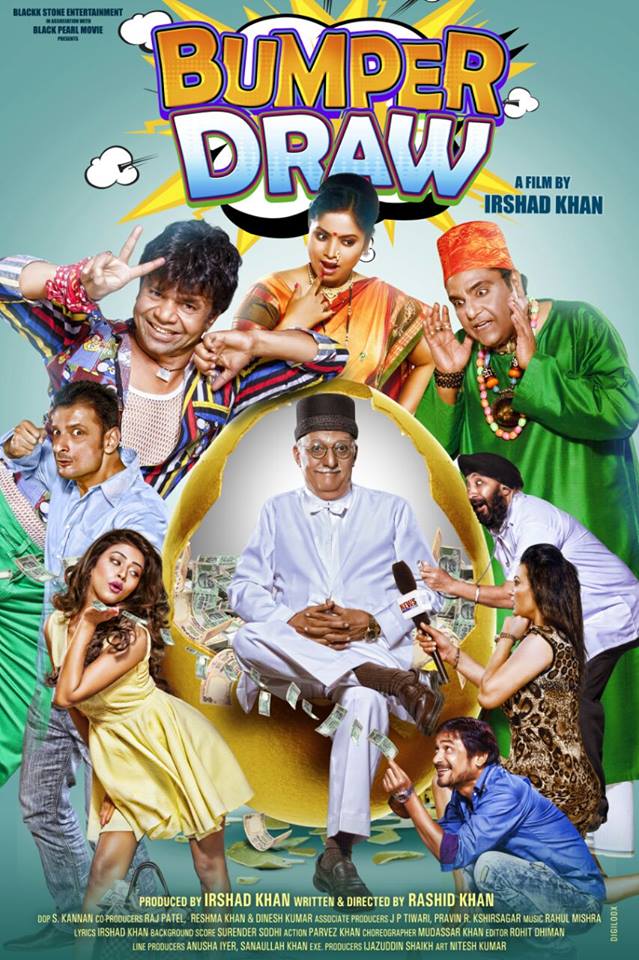 Though the first half of the movie owing to the confusion, chase and running around, second half proves better than the earlier one. The lead character of Bumper Draw movie delivers his best averting over acting and more drama holding on viewers to get seated in theaters. Ending with a comic note, a good message is delivered by the cast of the Bumper Draw movie which is uncalled for and predictable. Just as the title suggests, the film is based on a lottery and its lucky draw. This realistic comedy is a one-day story. From humor to confusion, it has all the elements of a truly entertaining film.
Bumper Draw Hindi Movie Audience Response:
Audiences and viewers across all theaters screening Rajpal Yadav's  Bumper Draw Hindi movie are ascending and are conveying mixed responses. While the comedy of lead characters such as Rajpal Yadav, Bomi Dotiwala, Omkar Das Manikpuri, Zakir Hussain and other lead characters is being praised. Most of the viewers who watched Bumper Draw movie at theaters claimed it to be a complete family entertainer.
All India Roundup Rating: 1.5/5
Final Verdict:
Bumper Draw Hindi movie whose story thus unfolds over the lottery is a complete family entertainer to be watched along with friends and family members. Bumper Draw Hindi movie could be watched by those Bollywood movie fans and lovers who don't mind watching this one unless moral stories really bug them. However, a little subtlety would have made a whole lot of difference. On the whole it is a laugh-out-loud comedy film.
Hang on with us for more trending alerts of Indian cinema and Bollywood updates by bookmarking (press Ctrl+D) us in your web browser for easy navigation.