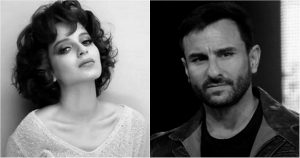 Kangana Ranaut's Open Letter (Response) To Saif Ali Khan On Nepotism Proves That She Is The Undisputed Queen Of Bollywood
It all started when 'Queen' actress Kangana Ranaut made some sensational comments on Nepotism in Bollywood. The first and most prominent incident of discussing Nepotism took place when she appeared in director Karan Johar's 'Koffee With Karan' show.
And from then, there is no going back, she spoke about the same in a couple of interviews. Various Bollywood actors commented about the same and what not? It has been the talk of the town since the day one.
Related Article: A Twitter User Slams Karan Johar In Her Series Of Tweets For His Statements On Not Censoring Kangana Ranaut's Opinions
But, the recent IIFA 2017 event that took place in New York has left some surprising news. It is seen that the event hosts Karan Johar and Saif Ali Khan along with actor Varun Dhawan has made some annoying statements and even ended up chanting 'Nepotism Rocks'.
These comments made by them infuriated the audience and people on social media, who ended up slamming the same blue and black.
However, post the controversy, Karan Johar apologized to the actress in an interview. But, Saif Ali Khan instead came up with an open letter addressing to Kangana. He, in his letter, went elaborating the genetics concluding that acting skills are hereditary. Twitterati slammed Saif saying that he is making fool of himself with the edgeless letter. Along with other actors, he was brutally trolled on the Internet.
In a bid to clear the air, Kangana Ranaut herself wrote an open letter to Saif as a response to his, she in her letter destroyed his opinions on calling acting 'hereditary and genetic', she said that she should be a farmer if hereditary skills are concerned.
Kangana suggested netizens to "take a chill pill and back off" because he has already apologized to her. Talking about the genetics' explanation given by Saif, she said:
"This is not my issue alone, nepotism fails the test of objectivity and rationale. Swami Vivekananda, Albert Einstein, and William Shakespeare didn't belong to a select few, they belonged to collective humanity."
Earlier, Saif had written, "People are interested in what their (superstars') children will be like and whether they will have the genes of their parents, in terms of their talent. If you need another example, then take race horses. We take a derby winner, mate him with the right mate and see if we can create another grand national winner. So, in that sense, this is the relationship between genetics and star kids."
Meanwhile, Kangana took a dig at that point detailing, "I fail to understand how you can compare genetically hybrid racehorses to artists," Kangana wrote, asking if Saif believed that talent and dedication were only hereditary. "If your point was true, I would be a farmer back home."
She then added, "You also spoke of eugenics – which means controlled breeding of the human race. So far, I believe that the human race hasn't found the DNA that can pass on greatness and excellence. If it had, we would've loved to repeat the greatness of Einstein, Da Vinci, Shakespeare, Vivekananda, Stephen Hawking, Terence Tao, Daniel Day-Lewis, or Gerhard Richter."
Kangana also gave a bashing reply to "Saif's comments: Taimur, was a paparazzi favorite before he turned a year old and is already hyped to be the next big thing. It is only a matter of time before a producer cashes in on all that hype." She said: "No one is putting a gun to anyone's head to hire the talent they don't believe in. So, there is no need to get defensive about one's choices."
So, she didn't leave any corner in thrashing Saif, it would have been better if the latter didn't have messed up the 'nepotism' issue at the IIFA.