Sumanth Ashwin Kerintha Movie Review Rating
Kerintha is a latest Tollywood movie. The movie is written and directed by Saikiran Adivi. The movie starring Sumanth Ashwin, Tejaswi Madivada, Sri Divya etc., and It is produced by Dil Raju under the banner Sri Venkateswara Creations. Mickey j Meyer composed the music for this film. The movie Cinematographe is handled by Vijay Chakravarthy and edition is done by Madhu. Censor board gives U  Ramajogaya Sastry was penned the lyrics to film. Kerintha movie is scheduled for release in theatres worldwide on June 12, 2015 (Friday). Here we have provided "Kerintha " movie complete review and rating.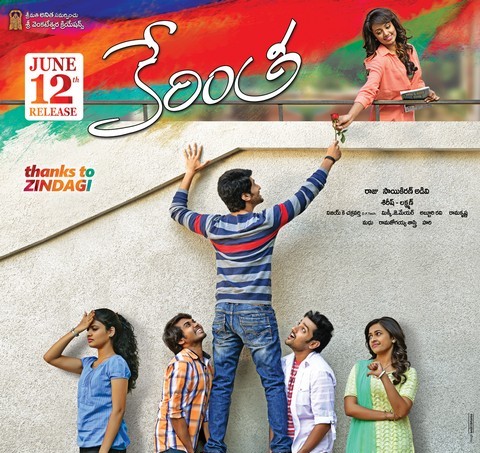 Kerintha Movie Rating: 2.5/5
Kerintha Movie Cast and Crew:
Director : Sai Kiran Adivi
Producer : Dil Raju
Starring :
 Sumanth Ashwin
Sri Divya
 Tejaswi Madivada
Music : Mickey J Meyer
Cinematography : Vijay K Chakravarthy
Banner : Sri Venkateswara Creations
Editor : Madhu
Release Date : 12th June 2015
Country : India
Language : Telugu
Kerintha Movie Story Line:
Kerintha movie set in the background of a college; a gang of friends with diverse characters are the pivot. The story begins with Jai (Sumanth Ashwin), Bhavana (Sukeerthi), Sid (Vishwanath), Priya (Tejaswi) & Nookaraju (Parvatheesham). They join in Masters in the same college, but in no time they become good friends. Soon Nookaraju – Bhavana and Sid – Priya make a pair. Meanwhile, Jai falls in love with Jr. Doctor Manaswini (Sri Divya). To complicate things, Nookaraju also falls in love with Shalini (college senior), He struggles with his career, Sid can't clear his issues with Priya and Jai starts getting closer to Tanisha (Nithya Naresh). It leads to fun filled moments besides hatred, jealousy and emotional moments in their lives. Ultimately, do lovers join or not forms the rest of the storyline.
Kerintha Movie Complete Review and Rating:
Kerintha Movie is a latest romantic movie. Kerintha is a simple story that starts off with some friends in the college where their friendship turned into love. We think the director Adivi is inspired from Sekhar Kammula's Life is Beautiful and Happy Days. Sumanth Ashwin and Sri Vidya had played a decent job with involvement in their characters. Tejaswini Madivada has got a significant role to play, she executed her role very well and all other new cast done their best in the film. The audio launch was held on 25th May 2015. All the lead characters in this movie have done pretty much good performance for this movie.
Kerintha Movie Trailer Review:
Kerintha Movie Official Trailer has been released on May 25, 2015 in YouTube and the trailer have receive a grate reviews from the social networking sites among the audiences.
https://www.youtube.com/watch?v=PDtLlV5ADbk
Kerintha  Movie official trailer has been viewed more than 35,726 times in less than 12 hours of its release on YouTube. It has garnered 89 thumbs up 11 thumbs down. Viewers are impressed with the making of the film
What's Good in the Movie:
Cinematography
Mickey J Meyer's Music
Few Scenes
What's Bad in the Movie:
Screenplay
Inspired sequences
Runtime
Director
Characterizations
Emotional connectivity
Kerintha Movie Rating: 2.5/5
Stay tuned with us for "Kerintha Movie" movie Review, Rating. Press CTRL+D right now to bookmark this page.