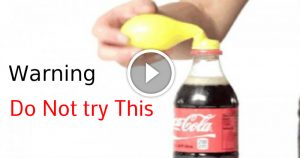 Watch Few Crazy Experiments Of Coca-Cola That Are Unbelievable
People who are exposed to social media nowadays, they would have seen many soda experiments i.e. Coca-Cola experiments. There is a wide range of experiments posted on Instagram, Facebook, Twitter, and YouTube on soda explosions created with Mentos.
What you may not know is that there are even more cool tricks to perform using Coca-Cola including one that brings the Mentos geyser to a whole new level, pun totally intended.
The video has revealed many secrets in connection with the Coca-Cola and some things which are really unbelievable. We only need readily-accessible items that most of us already have in our homes.
Here are few crazy experiments done with the Coca-Cola drink:
Whether you're a bored high-school or college student or the cool parent of a kid who loves science, these Coca-Cola tricks are sure to knock your socks off.