Fighting Sexual Harassment, IAS Officer Riju Bafna Says 'No Woman Should Be Born In India'
What could be worse than being sexually harassed?! Not being acknowledged as a victim would be it. Riju Bafna, an IAS officer went through just that. She was sent lewd messages by someone in the Human Rights Commission; later she went to the Judicial Magistrate to give her statement and was insulted by an advocate when she asked for privacy, a basic right.
"I can only pray that no woman is born in this country," IAS officer Riju Bafna said on Facebook, on a post shared on 1 August. Trainee IAS officer Riju Bafna described in that post how a judicial magistrate in Madhya Pradesh refused to honour her requests for privacy while she gave her statement about being sexually harassed by another government employee.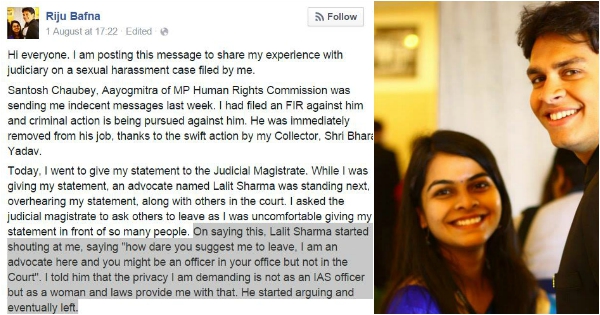 Here is her own account of how the situation occurred:
"Hi everyone. I am posting this message to share my experience with judiciary on a sexual harassment case filed by me.

Santosh Chaubey, Aayogmitra of MP Human Rights Commission was sending me indecent messages last week. I had filed an FIR against him and criminal action is being pursued against him. He was immediately removed from his job, thanks to the swift action by my Collector, Shri Bharat Yadav.

Today, I went to give my statement to the Judicial Magistrate. While I was giving my statement, an advocate named Lalit Sharma was standing next, overhearing my statement, along with others in the court. I asked the judicial magistrate to ask others to leave as I was uncomfortable giving my statement in front of so many people.

On saying this, Lalit Sharma started shouting at me, saying "how dare you suggest me to leave, I am an advocate here and you might be an officer in your office but not in the Court". I told him that the privacy I am demanding is not as an IAS officer but as a woman and laws provide me with that. He started arguing and eventually left.

Such is the state of affairs for women in this country. When I said to Judicial Magistrate that he should be careful of [the] presence of other people when a woman is giving statement under sexual harassment case, he said that you are young and that's why demanding such things.

Idiots are lined up at every step and people are highly insensitive towards our sufferings. If you are born in this country, better prepare yourself for struggle at every step."
It is horrifying that an IAS officer has to regret being born in India. In her words:  If you are born in this country, better prepare yourself for struggle at every step or die within every day.
It is disheartening to meet roadblocks at every point in the judicial system. If an IAS officer had to face so much trauma to get fair, just treatment, what will the common man have to face?