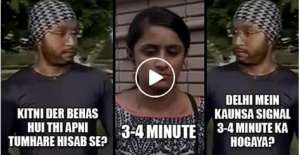 Sarvjeet Asks a Small Question On National Media, Jasleen's Answer is Very Dramatic
The Jasleen Kaur issue has gone viral and insane in the last 48 hours. Starting from being a role model to today's women, she has to face serious issues now, both on internet and off internet as well. The incident of the 20-year-old Delhi University student alleging that she was harassed by a motorcyclist at a traffic intersection on Sunday evening took a new turn with a supposed eyewitness saying that the alleged harasser did not use any abusive words against the girl and that he had been falsely implicated.
Yesterday there was a live conference on national media when Jasleen just ran away when asked a simple question by the eye-witness. Today there is a whole new story risen upon this issue!
Today when Sarvjeet asked a simple question about the duration of the conversation at the signal, for which there was an insane reply from Jasleen. She said that the conversation was for about 3-4 min. Now that was simple logic which Sarvjeet picked up! He simply asked which signal in Delhi stops for 3-4 min? The average time is about 90sec or so.
There was nothing wrong in what he asked but the way she reacted over there also rises many questions! Now who is the actual culprit? Every day there is a contrary and now it seems that the guy has a lot of support all over the country regarding this issue and how girls take advantage of their feminism.
Here is the conversation which happened:
Here's the link for mobile viewers: Click here