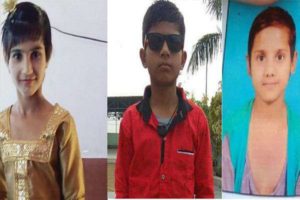 2 suspected murderers of 3 children who were shot dead on May 24 have been arrested in Bulandshahr, Uttar Pradesh
The police have arrested the 2 suspected murderers of the three children who were shot dead on May 24 in Bulandshahr, Uttar Pradesh.
The dead bodies of the 3 minors, who are all below 15-years-old, were found inside a well in the Dhooturi Village in Bulanddshahr on early Saturday morning.
The police have identified the kids as 10-year-old Masood Abdul, 11-year-old Asma, and 12-year-old Aliba.
The police saw gunshot wounds on the bodies of the 3 children, they also recovered cartridges and blood near the tubewell, which is where the three kids were thrown after being killed.
An official statement by the police said, "One of the deceased's father, Hafiz Salim has cited family dispute for the triple murder."
Preliminary investigations revealed that Salman, the suspected murderer, was upset with the family for not inviting him in their family's "iftaar" party.
The police statement added, "In the past, he had given the warning to kill them. It has been learned that he owns a pistol. We have formed special teams to probe the matter."