ATMs Go Dry, Another Demonetisation? Here Is What Government Says
Severe cash crunch has been reported in several states of India – Karnataka, Maharashtra, Andhra Pradesh, Rajasthan, Uttar Pradesh, Madhya Pradesh and Telangana, and ATMs in these regions are running dry.
Several ATMs  have gone 'out of service' causing inconvenience to the locals. "We are facing a cash crunch. ATMs are not dispensing cash. The situation has been the same since 15 days. We have visited several ATMs today as well, to no avail," few people said. This is bringing back the memories of cash crunch pangs due to demonetisation in November 2016.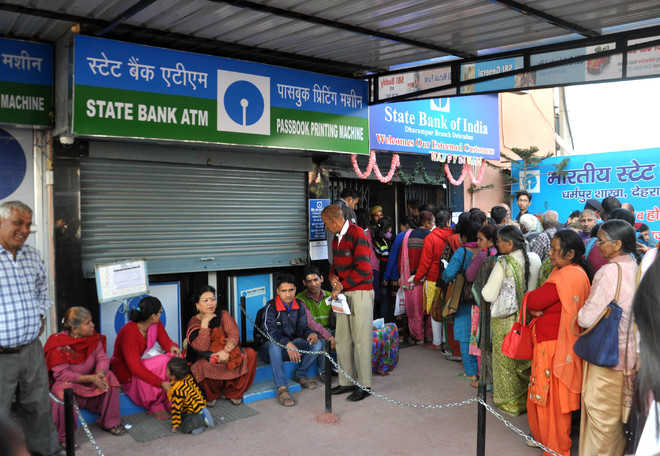 Telangana was the worstaffected with over 48% of its 8,500 ATMs cashless, according to the National Informatics Centre. SBI chief general manager Swaminathan J said, "With RBI's permission, we will airlift currency from cash-surplus states.
What the government says
Union Finance minister Arun Jaitley on Tuesday said the temporary shortage of currency caused by a sudden and unusual increase in some areas was being tackled. "We have reviewed the currency situation in the country; there is more than adequate currency circulation and it is available with the banks.. a temporary shortage caused by the sudden and unusual increase in some areas is being tackled," Jaitley tweeted.
Have reviewed the currency situation in the country. Over all there is more than adequate currency in circulation and also available with the Banks. The temporary shortage caused by 'sudden and unusual increase' in some areas is being tackled quickly.

— Arun Jaitley (@arunjaitley) April 17, 2018
SC Garg, Secretary of the Department of Economic Affairs, on Tuesday, assured that the government is doing it's utmost to resolve the situation at the earliest."The Government is taking all steps to ensure that ATMs  are supplied with cash and to get the non-functional ATMs normalised at the earliest," Garg said.
"The Government of India would like to assure that there has been an adequate supply of currency notes which have met the demands so far. It would also like to assure it would be supplying adequate currency notes to meet even higher demand in coming days/months," "We print about 5 billion of Rs 500 notes per day. We have taken steps to raise this production 5 times. In next couple of days, we'll have a supply of about 25 billion of Rs 500 notes per day," he added
Earlier, finance ministry officials had reportedly met with the RBI officials to take stock of the situation.
Conspiracy?
Madhya Pradesh Chief Minister Shivraj Singh Chouhan today claimed that Rs 2,000 notes were vanishing from the market, and alleged that there was a "conspiracy" behind it, said an NDTV report. He was referring to news reports of ATMs running out of cash at some places in the state. Shukla said that the problem will be resolved within three working days as the government has about Rs 1,25,000 crores of cash currency.
What the opposition say
Congress President Rahul Gandhi slammed PM Modi for the cash crunch, saying: "Modi has destroyed the banking system. Rahul Gandhi said, "Nirav Modi fled with Rs 300 billion (Rs 30,000 crore) and Prime Minister didn't utter a word. We were forced to stand in queues as he snatched Rs 500 and Rs 1,000 notes from our pockets and put in Nirav Modi's pocket."
News reports say that ATMs around the country are running of out cash. Is it just gross mismanagement by the Modi Govt or is this a deliberate move? #IndiaSpeaks

— Congress (@INCIndia) April 17, 2018