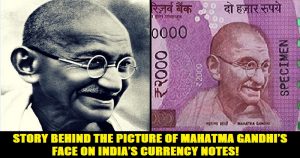 Ever Wondered Where Did This Gandhi's Photo On Currency Notes Came From?
We have been seeing the picture of a smiling Mahatma Gandhi on our currency notes since a long time. Many of us have been seeing it since always, and that is often the first picture to come in mind when we think of Gandhi.
But ever wondered where did that picture come from? Do you know the history behind the Mahatma Gandhi's picture on Indian currency notes?
Let us tell you; it has quite a surprising story behind using the photograph of our "Father of Nation" and a "great personality" Mahatma Gandhi.
Well, if you thought that it must be just a normal drawing (caricature) then NO it's definitely not. In reality, the image was cropped from an actual photograph.
Story Behind The Picture Of Mahatma Gandhi's Face On India's Currency Notes!
The actual smiling picture was taken when Mahatma Gandhi was once standing next to the Lord Fredrick Pethick-Lawrence. Also, check out the photograph below.
The picture in question was that of Mahatma Gandhi standing next to Lord Frederick William Pethick-Lawrence.
Lord Frederick William Pethick-Lawrence was a British Politician. He was a leader of the "Woman Suffrage" movement in Great Britain during the 20th century and then served as the secretary of state of India and Burma.
But when did they take this picture and where?
The picture was taken in 1946 by an unknown photographer.
This photo was taken by an unknown photojournalist in 1946. By this photo, you may notice that Gandhi Ji is smiling towards an unknown person in front of him while standing next to Lord Frederik Lawrence.
It was taken at the former Viceroy House, which is now known as the
Rashtrapati Bhavan

.

If you see; Gandhi's smiling photograph is been cropped and taken smartly.
The mirror image of the original picture has been used on the Mahatma Gandhi Series of bank-notes.
The picture of Mahatma Gandhi that we see today on currency notes only came into existence since 1996. Before that year, currency notes used to have the picture of Ashoka Stambha.
In 1987, when Rs.500 note was used for the first time, watermark of Gandhi's picture was used. Finally in 1996, Reserve Bank of India decided to make this transformation and this trademark picture of Gandhi was used in all the currencies starting from Rs.5 to Rs.1000.
Rs. 500/- released 02-10-1987 (First note with Gandhi)
1996 was the year of this transformation!
And finally in 2016 with the historic demonetization move by PM Modi: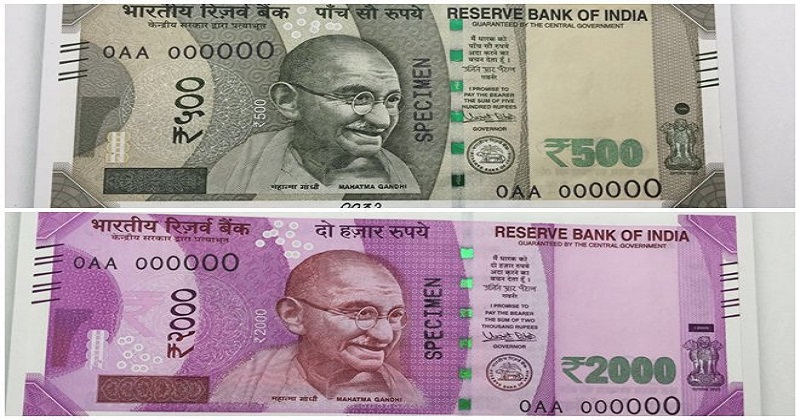 Mahatma Gandhi is well known for being a leader of the nation, a lawyer and also called as 'Bapu' the Father of the Nation. We owe this remembrance to such a great leader!
Well, if you liked the story then do spread the article and let others also known about it too. Any thoughts about it? Leave a comment below.