[WATCH] A Family Of Three Washed Away In Bihar Floods As Bridge Collapses
Inundated large areas in Assam and north Bengal, paralyzing normal life and snapping rail link to the North East. Heavy rains in the last few days triggered flash floods in parts of Bihar. The heavy floods in Bihar have raised alarming concerns in the country.
According to the reports on Wednesday, an estimated 65.37 lakh people in 12 districts of Bihar have been affected by floods, with Nitish, who conducted an aerial survey of flood-hit areas, saying that Araria was the worst-hit district. Lakhs of people have been waiting for the rescue from the horrible situation they are experiencing.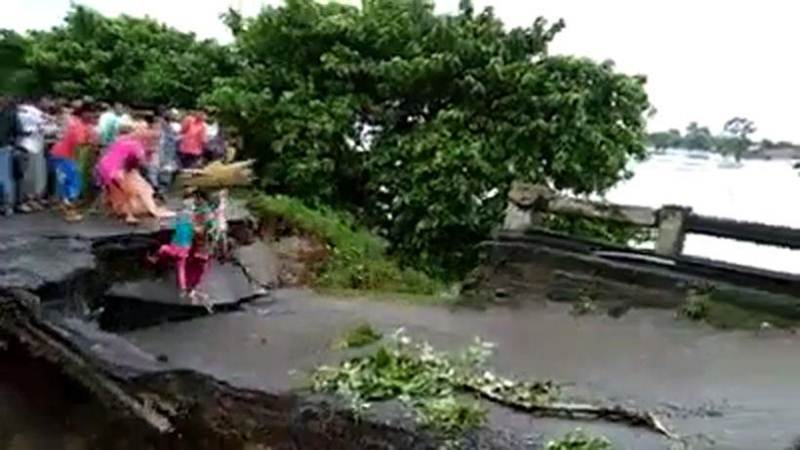 Now, a disturbing video emerging from Araria has added up to the horror. A family of three members including a child and woman got washed away after a bridge collapsed in Araria district of Bihar. The death toll reached to 119. Captured by a local resident, the video of the tragic episode featuring villagers crossing the bridge is going viral on social media.
A video which has since gone viral shows people racing across the unsteady bridge in small groups to get to safety. A man, a woman and a girl, apparently family members were crossing the bridge together. Suddenly, the bridge collapsed moments before they step on the other side.
"My sister Jano, son Rehman and my nephew Shaheel were crossing the bridge in Araria. However, just before they could reach the other end of the bridge it collapsed. All of them got washed away along with the bridge," the family member said.
Watch The Video Here:
Araria district accounted for 20 deaths, followed by East Champaran (14), West Champaran (13), Madhepura (12), Sitamarhi (11), Kisanganj (8), Purnea (5), Madhubani (5), Darbhanga (4), Saharsa (3), Sheohar (2) and Supual (1), said disaster management department principal secretary Pratyay Amrit.
The health department has launched a toll-free number '104' to provide information on floods. Chief Minister Nitish Kumar accompanied by his deputy Sushil Kumar Modi and Chief Secretary Anjani Kumar Singh conducted an aerial survey of Gopalganj, Bagha, Bettiah in West Champaran, and Raxual and Motihari in East Champaran.