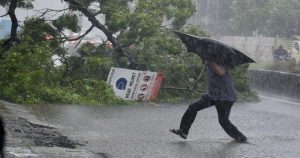 Here's The Real Reason Why You Have Been Experiencing A Slow Internet Connection Recently!
If you are witnessing slow internet speeds suddenly, blame Cyclone Vardah even if you are sitting thousands of miles away from the impacted area.
Cyclone Vardah which has wreaked havoc in Tamil Nadu has now disrupted internet services across India as users complain of an extremely slow internet connection.
Indian Internet providers AirTel, BSNL, ACT, You broadband services informed to their customers that the cyclone Vardah in Chennai has impacted on the undersea cables which effects internet speeds.
Here's The Real Reason Why You Have Been Experiencing A Slow Internet Connection
What are Under Sea Cables?
Undersea cables are laid on the sea bed between land-based stations to carry telecommunication signals across stretches of ocean. More than 99% of the world's internet traffic relies on high-quality fiber optic cables connecting various countries. Only a minuscule part of the total internet traffic goes through satellites.
These cable networks are laid and maintained by various governments and giant companies. Such projects are usually undertaken by multiple companies due to the large cost of investment. There are three tiers which differentiate the size of the network held by a company.
Tier-1: –
These are the companies which have a global network connecting several cables around the world. They will be able to provide access to any destination on the internet without paying a fee to others. They usually access the network of other tier-1 companies without paying any fee. This network acts as the backbone of the internet.
Tier-2: –
These are companies which have regional networks and are usually connected to one or more tier-1 networks. They have to pay a fee to access the tier-1 company's network.
Tier-3: –
These are the Internet Service Providers(ISPs) from whom we buy our broadband connections. They are the last tier, connecting the internet to the end users.
Experts who understand the international internet gateways, a key stopping point for data on its way to or from other networks, of India say there are two main ones; one in Mumbai and the other in Chennai. The Cyclone Vardah seems to have hit the Southern Indian gateway by hitting the undersea optic fiber cables.
There is a huge network of optic fiber cables undersea that transmit 99 per cent of international data. Unraveled, they can be thousands of miles long. While these cables are subject to threats from ship anchors, trawlers, and the occasional inquisitive shark, natural disasters like a cyclone or underwater quake can also disrupt the workings of the cables.
News: Source