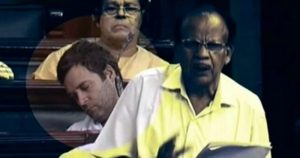 Caught On Camera: Rahul Gandhi Enjoys A Nap In Lok Sabha Once Again
Vice-President of Indian National Congress Rahul Gandhi was once again caught on camera while enjoying a nap in Lok Sabha. This footage was recorded while the Congress has taken the battle on the BJP over the thrashing of four Dalit youth in Gujarat's Una.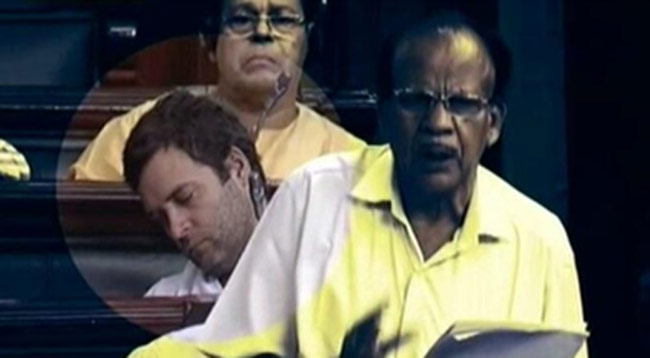 Rajnath Singh was speaking on the very important issue of Gujarat Dalit assault, there he was, the beloved Vice-president of Congress Party comfortably dozing off.
As the Congress benches exploded in protest over Rajnath's remarks, television footage certainly showed Rahul Gandhi sleeping with his forehead resting in his palm. Congress party's Lok Sabha chief Mallikarjun Kharge and his fellow MPs were on their feet shouting their objections against BJP, Rahul seemed to sleep on.
This was not the first time we are seeing Rahul Gandhi sleeping inside the Lok Sabha, earlier we had him doing the same in the hall. Thus, Twitterati trolled Rahul Gandhi for his childish act in Lok Sabha.
Twitterati Trolls Rahul Gandhi:
Guys calm down. Rahul Gandhi was NOT sleeping in Parliament.. https://t.co/m2KaebkbPb

— José Covaco (@HoeZaay) July 20, 2016
Why is there so much uproar over Rahul Gandhi taking a nap during Parliamentary debate? I'd say, from nappy to nap is a huge step forward

— The Bad Doctor (@DOCTORATLARGE) July 20, 2016
It needs guts to sleep in Parliament when whole country is watching u, I can't even sleep in office fearing my manager. Respect Rahul Gandhi

— EngiNerd. (@mainbhiengineer) July 20, 2016
It needs guts to sleep in Parliament when whole country is watching u, I can't even sleep in office fearing my manager. Respect Rahul Gandhi

— EngiNerd. (@mainbhiengineer) July 20, 2016
Guess who is sleeping on Sonia's Lap!!

Yes.. its him.
I'm not endorsing @OfficeOfRG BTW!#pappu #RahulGandhi pic.twitter.com/uxWwocjD4N

— Chiru Bhat (@mechirubhat) May 9, 2016
Don't you think rahul gandhi sleeping is still better than rahul gandhi speaking?

— one tip one hand (@OneTipOneHand_) July 20, 2016
Shame on you guys, #RahulGandhi wasn't sleeping, he was just thinking about collecting his next #PokemonGO https://t.co/xzGWbmXJUj

— The Masakadzas (@Nesenag) July 20, 2016
Tonight, I am Sleeping in the morning
#RahulGandhi pic.twitter.com/JWAR1kFWXV

— दिमाग से पैदल !! (@DeemagSePaidal) July 20, 2016
I don't blame Rahul Gandhi tor sleeping in Parliament. Long & boring speeches by MPs can put any child to sleep.

— Mahesh Jagga (@MaheshJagga) July 20, 2016
Please don't make fun of Rahul Gandhi sleeping in the Parliament. This is his best contribution to the nation. pic.twitter.com/K1HcjJe0eD

— The-Lying-Lama ☔️ (@KyaUkhaadLega) July 20, 2016
Congress Leader Renuka Chowdhury Reaction:
WATCH: Congress leader Renuka Chowdhury's clarification on Rahul Gandhi appearing to be dozing off in Lok Sabha.https://t.co/BdhqvGwG1U

— ANI (@ANI_news) July 20, 2016