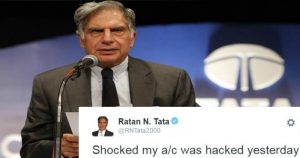 Ratan Tata's Twitter Account Hacked, Spurious Tweet Has Gone Viral
Leading industrialist Ratan Tata's Twitter account was hacked and a "spurious" tweet with "malicious intent" was made. All the netizens were shocked with this tweet. Tata's previous tweet on his twitter account is dated September 1, 2015.
On Friday, a tweet by parody account @realhistorypic was shared by Tata's account showed Reliance Industries Chief Mukesh Ambani and Prime Minister Narendra Modi together with the caption: Owner of Network 18 welcoming his employee to address people how (sic) cronies are going to halt inflation.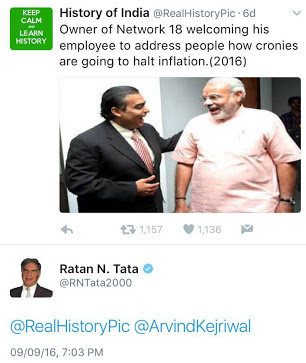 After the share by Tata, the @realhistorypic account responded to this with a guarded yet funny disclaimer: "Big folks are getting involved. We must be careful now onwards.
PS ~ All the characters and incidents of @realhistorypic are imaginary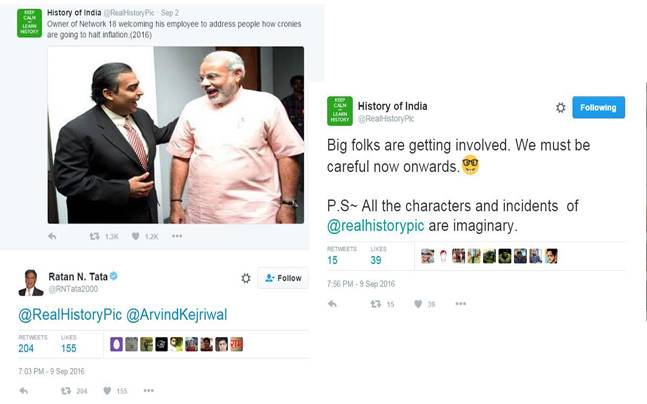 Responding to this Ratan Tata tweeted after restoring his account. The tweet says:
"Shocked that my Twitter account was hacked yesterday and a spurious malicious was wrongly attributed to me. This spurious tweet has now been deleted and my Twitter account restored. I regret the inconvenience that this malicious and wrongful action may have caused," he tweeted.
Shocked my a/c was hacked yesterday & spurious tweet sent with malicious intent.Tweet deleted, a/c restored. C link. pic.twitter.com/L0HKIy4nHC

— Ratan N. Tata (@RNTata2000) September 10, 2016
Mr. Tata who is seldom onboard twittering despite having 6.13M followers has so far tweeted 119 times.