Saptagiri Express Review, Rating, Story – Saptagiri, Roshini Prakash
Sapthagiri Express which one of the most-hyped Telugu movies as it marks the debut of comedian Saptagiri as a hero released today. The movie is directed by Arun Pawar and Roshni Prakash plays the Female lead. Saptagiri's close friend Dr. Ravi is producing the movie under Sai Celluloid Cinematic Creations banner.
Comedian Saptagiri plays the lead role and also wrote the film, which is an adaptation of the Tamil film Thirudan Police. Pawan Kalyan attended the audio launch of comedy actor Saptagiri's debut movie Saptagiri Expres and raised the expectation for this movie. Here is the complete review, rating of Saptagiri Expres movie.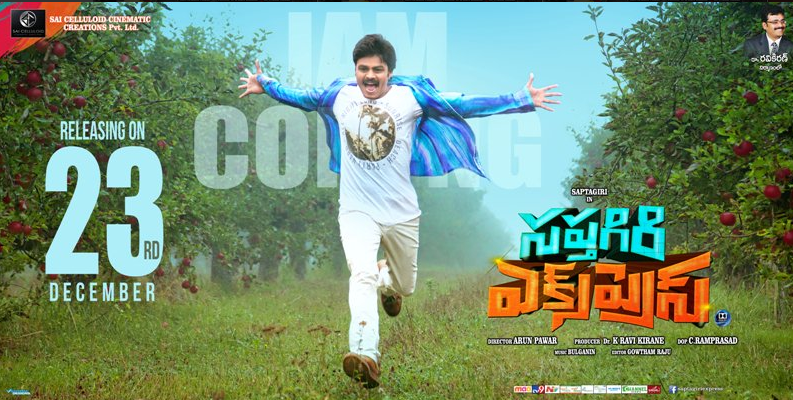 Saptagiri Express Movie Cast & Crew:
Cast:
Saptagiri
Roshini Prakash
Shamili
Ajay Ghosh
Sayaji Shinde
Posani Krishna Murali
Ali
Tulasi
Madhunandan
Shakalaka Shankar
Director: Arun Pawar
Music Director: Bulganin
Producer: Dr. K. Ravi Kirane
Writer: Arun Pawar, Sapatagiri
Cinematography: C. Ram Prasad
Editor: Goutham Raju
Banner: Sai Celluloid Cinematic Creations
Saptagiri Express Movie Story:
Saptagiri (Siva Prasad) played as Police Constable, who doesn't waste time. Hero Saptagiri is a jobless guy. His father asks him to get a job as SI, but the hero does not pay attention to his words. Saptagiri loves to be in Films and doing trails for a chance. The Egoistic Commissioner plans an encounter of a dangerous history-sheeter, and in the meanwhile, hero father gets killed.
Saptagiri is totally unmoved by his father sudden death. He gets offered the position as a police constable. In the meantime, the hero had a crush on heroine. Roshini Prakash and Saptagiri love is nothing new to expect, but Roshini manages her as a girl-next-door image. How hero tackles the villains? How hero takes revenge is remaining part of the story.
Saptagiri Express Movie Review:
Saptagiri Express theme comes with Sentimental as well as perfect comedy. The movie packed with a right mixture of comedy and emotion. Comedy takes most vital part in the story. The film had predictable story plot, but director treatment of the screenplay entertains audiences throughout the film. Saptagiri performance in the introduction is brilliant. Original Tamil film Thirudan Police is serious note film, but the theme of the story is too good.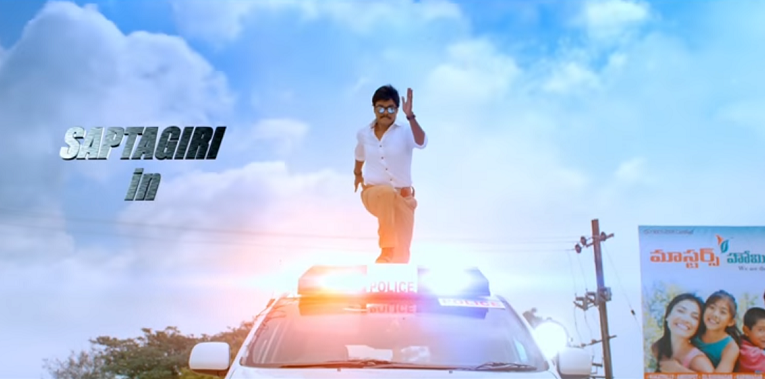 The second half had a good dose of comedy and sentiments. Scenes between Father and son came out well and seemed like middle-class father conversations. Saptagiri perfectly suits in Police Constable role; he generates fun with Shakalaka Shankar. Every time Saptagiri recollects memories of his dad and gets emotional. The young comedian not only showed his comic talent but also used plenty of space to exhibit his dancing skills. The movie had one liner which entertains the audience. Music is composed by Bulganin songs are impressive, and Background is the highlight of the film. Finally, Saptagiri gets his revenge in a humorous manner.
Positive Points:
Saptagiri Performance
Comedy
Sr. NTR Dialogue by Saptagiri
BGM
Cinematography
Emotional Scenes
Negative Points:
Too Many Characters
Routine Story
Second Half
All India Roundup Rating: 2.5/5
Final Verdict: 
Saptagiri Express movie is a complete package of comedy and Saptagiri mark entertainment. The movie is an entertainer which also had strong emotional scenes between father and son. Finally, Saptagiri Express is with less speed and more comedy.
Also Read: RGV's Vangaveeti Movie Review, Rating