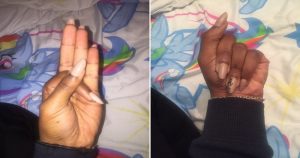 This Girl Just Showed Twitter A Crazy Hand Trick &; The Internet Simply Can't Get Enough Of It
Photos go viral for various reasons on the internet. Some are funny, some are sad, weird and some look logical too but all elicit a good response. Proving just that, one girls fist(hand) photos have recently gone viral, and it's for all the right reasons.
In the world of boundless internet, there is no shortage of the weird things and this image going viral can really only be explained by that logic.
On Monday, @Larose419 posted an intriguing picture of her newly-done nails on Twitter but the world wide web noticed… something was missing.
just got my nails done💅🏾 pic.twitter.com/6ojfjLcYEU

— L Brrrr🕊 (@larosebaby) October 31, 2016
The OP had the world's brain itching pretty much immediately.
Something is missing here, but I can't put my finger on it 🤔 https://t.co/wTeN6Z5tWu

— CheekzAwb (@DaReal_Marsta) October 31, 2016
This bizarro manicured hand suddenly went sooper-duper viral. And that's not it. People started posting pictures of them magically making a four-fingered fist too.
omg same b 💕 pic.twitter.com/nFVM2T2pC9

— nay (@thegreaternaima) October 31, 2016
https://twitter.com/ShaLhm/status/793252986394927109
The woman's index-finger-less hand got her so much attention, tweets came pouring in from around the world (especially France), bursting with curiosity.
Pourquoi elle a que 4 doigts? https://t.co/gphXhdIF9K

— younes (@younesdapengest) October 31, 2016
"Why does she only have four fingers?"
NN MAIS PK VS AVEZ TOUS 4 DOIGT LA JVE SAVOIR

—  (@donnasoumexic) November 1, 2016
"OK BUT WHY DO YOU ALL HAVE FOUR FINGERS I WANT TO KNOW"
 Poor OP could. Not. Even.

I'm getting roasted on twitter by a whole bunch of french people rn & i can't even laugh at their jokes coz i don't understand french😔

— L Brrrr🕊 (@larosebaby) November 1, 2016
When the OP was contacted, she revealed to BuzzFeed News that she's double-jointed and the photograph was originally meant as an inside joke for those that knew that.