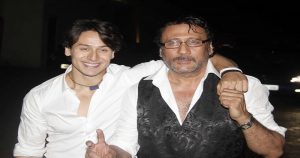 Tiger Shroff Gives A Bizarre Explanation On How He Got His Name, Twitterati Reacts Hilariously
It has been two years since Tiger Shroff made his debut in Bollywood films. But many of us don't get over his unusual name. It has been a question mark for everyone that "what is his name?"
On the occasion of International Tiger Day, Tiger Shroff finally had revealed the reason and explained the story behind his name. Considering International Tiger Day, Tiger Shroff thought it was the perfect time to explain how he got his name.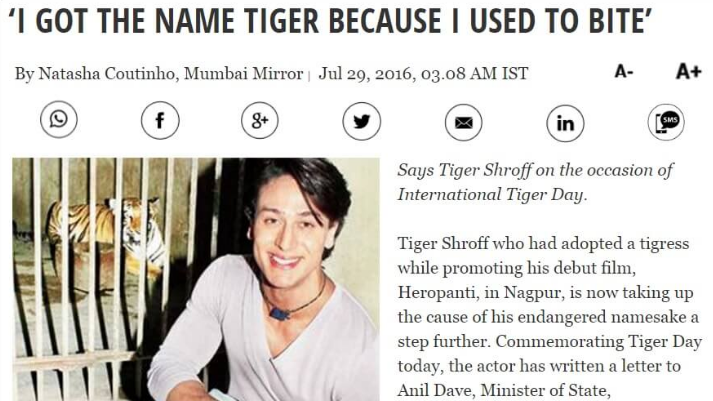 In a recent interview, Tiger Shroff gave an explanation for his name and stated that "I got the name Tiger because I used to bite a lot and scratch people as a child. There was no other Tiger in school so everyone thought my name was cool to call."
He also stated that "I hope that I can take my career to the heights that other successful Tigers like golfer Tigers Woods and cricketer Mansoor Ali Khan Pataudi did."
Hence, Twitterati couldn't stop laughing at the reason that Tiger Shroff gave.
Have A Look At Few Hilarious Twitter Reactions:
@mojorojo That could have been Dog Shroff! Not everyone who bites is a #Tiger

— Sarcastic Sukkhi (@SarcasticSukkhi) July 29, 2016
@mojorojo
EDITOR : Call tiger shroff. We need a bite for international tiger day.
*JOURNOS LAUGH*
EDITOR : What?

— Rohan Desai (@MautKaPashinda) July 29, 2016
@mojorojo He does fantastic on-screen kicks now. Should consider calling himself Donkey Shroff now.

— Rajesh K Sharma (@rajeshksharma) July 29, 2016
@mojorojo if i had a problem of biting .. my parents would've just called me Kutro ?

— Ankit Desai (@ankitrajdesai) July 29, 2016
@mojorojo bite = tiger❌ Bite = dog✔

— Coat and Gown Ninja (@mridul_chakra) July 29, 2016
#InternationalTigerDay which movie of #TigerShroff is releasing today? Disclaimer: No animal in this movie were harmed.

— Manali Sinkar (@manalisinkar) July 29, 2016
@mojorojo What a coincidence. I was named Tiger too for the same reason. They changed it to Rahul once I stopped biting

— Rahul Subramanian (@RahulNotAGandhi) July 29, 2016
@mojorojo also because "doggy shroff" would have been too mainstream!

— Lavya (@theLavya) July 29, 2016
@mojorojo So what did they call him before his teeth came in? "It"?

— Chronicus Skepticus (@chronicskeptic) July 29, 2016
It's okay Tiger. Whatever The Name Be, We "heart" You!