Here Is How Twitterati Trolled Kejriwal After Saying Modi Could Kill Him
Delhi Chief Minister Arvind Kejriwal is one of the active politicians in social networking sites sharing his views with the common people out there. His name is one of the words that always trends on social sites especially on Twitter. He is known for his strong statements as well as stronger allegations on him. Here is the reason for Kejriwal always trending on Twitter.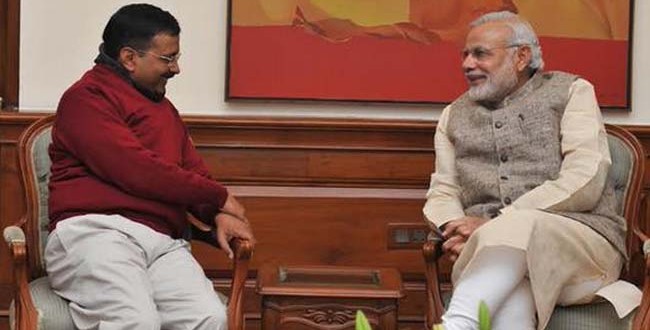 In a video released by Arvind Kejriwal on Wednesday, he said about the Prime Minister that he could kill him out of frustration. He also dubbed Modi to be the "mastermind" behind the "cycle of oppression" against them.
We had seen many ways of blaming and criticising in politics, but this is something different on a whole new level. As soon as the news reached the people, the Twitter users went crazy and started supporting Kejriwal in a strange way.
Hilarious Twitter Reactions:
PM Modi is so frustrated, he can get me killed,' says Arvind Kejriwal

That was the Acche Din Narendra Modi was talking about.

— Godman Chikna (@Madan_Chikna) July 27, 2016
If Kejriwal's mind was a social media platform, Modi would be permanently trending at the top spot.

— Papa CJ (@PapaCJ) July 27, 2016
Now he thinks Modi can get him killed! #RelevantReplug
Is Arvind Kejriwal suffering a total breakdown? https://t.co/aYXS6LAVi1

— Sunil Rajguru (@sunilrajguru) July 27, 2016
.@ArvindKejriwal sir kabali ka video review de do plz @YouTube

— That Cute Chashmish (@flw_ur_dreamz) July 27, 2016
PM Modi frustrated, may even try to get me killed: #ArvindKejriwal https://t.co/Z989LXcg24

This guy has lost it. My sympathies with him.

— So? (@ambuj25) July 27, 2016
Plz contact Mental Hospital, u good for nothing #Kejriwal. PM Modi frustrated, may even try to get me killed: Khujlihttps://t.co/AgET01zDvK

— Anant Saxena (@anantIIMi) July 27, 2016
Modi launched "Kejriwal Maaro Abhiyan".
. pic.twitter.com/RIfLFojEcj

— PhD in Bak*****☔ (@Atheist_Krishna) July 27, 2016
Modi's men drowning kejriwal in sea. pic.twitter.com/toRYAgExaq

— अंकित (@indiantweeter) July 27, 2016
खौफ का आलम ये है की मोदी से अपनी जान बचाने बुरखा पेहेन घूम रहे है केजरीवाल जी । pic.twitter.com/zm3GpcJbET

— REBEL (@GadhviLaxman) July 27, 2016
"Hence proven, Modi Ji is very frustrated and he is trying to kill me all his life"~ Kejriwal pic.twitter.com/3p0TTI1xaI

— Finger of India (@IndiaFinger) July 27, 2016
केजरीवाल के घर पे 9/11 की तरह प्लेन से हमला करने के लिए उड़ान भरता एक आत्मघाती आतंकी pic.twitter.com/gRDwDGUUP3

— Ankur Singh (@iAnkurSingh) July 27, 2016
Where is Kejriwal? ?? pic.twitter.com/gjh0pxYDLC

— आप चोर हैं! (@AapChorHain) July 27, 2016
केजरीवाल को मार के दफ़नाने के लिए कब्र खोदते मोदी pic.twitter.com/cIxqdBbsA6

— Ankur Singh (@iAnkurSingh) July 27, 2016
Kejriwal's Mother begging for her son's life. pic.twitter.com/NlyurtcMfS

— inGenious (@Bees_Kut) July 27, 2016
*Earthquake in Delhi*

Kejriwal ~ Modi ji Mujhe Maarne Ke Liye Patal Lok Me Jaakar Dharti Hila Rahe Hai !!

— Babu Bhaiya (@Shahrcasm) July 27, 2016
अरविन्द केजरीवाल पर हवाई हमले से पहले वायु सेना के जवानो से मिलते हुए मोदी जी pic.twitter.com/fd8LN5xtc6

— Ra_Bies (@Ra_Bies) July 27, 2016