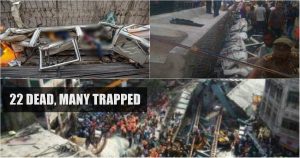 Varanasi Tragedy: Under-Construction Highway Collapses, 22 Dead On Spot, More Trapped
Cars and pedestrians crushed in the city of Varanasi. At least 22 people have been killed after a highway overpass being built in India collapsed. A huge concrete slab slammed down onto the crowded road below, crushing at least four cars, a motorcycle, and a bus.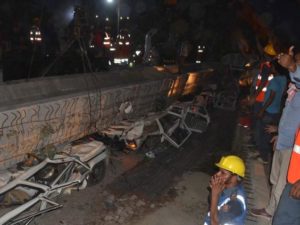 More people were feared trapped after the collapse in the city of Varanasi.The slab appeared to be at least 15 metres long and two metres wide.
"There was sudden rumble and within seconds we saw" the vehicles crushed, local resident Ramesh Kumar Singh told the Associated Press.
"It took at least a minute for the people around to realise what exactly had happened."
Most of the people killed were travelling in vehicles, senior police officer PV Ramasastry said.By nightfall, rescuers had pulled three people alive from the rubble, according to a statement from the National Disaster Response Force.
The state's top official ordered a probe into the collapse. He also announced a 500,000 rupee ($7,200) payment to families of those who died.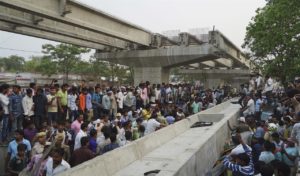 India has a long history of construction accidents caused by poor materials and inadequately trained workers. In 2016, a long stretch of elevated road being built through the city of Calcutta collapsed, killing 26 people and leaving 11 severely injured.
Prime Minister Narendra, whose political home is in Varanasi, said in a tweet that he was "extremely saddened" by the accident. "I pray that the injured recover soon."
Watch the video here:
Varanasi, an ancient temple city on the banks of the Ganges River, is a center of pilgrimage for Hindus.