With China And Pakistan In The View, IAF Plans For Major Military Drills
New Delhi: The Indian Air Force is preparing for wargame which can be considered to be the biggest, specifically designed to deal with any threat posed by Pakistan and China, simultaneously. The drills with  the codename ' Gagan Shakti 2018, are to take place as per the schedule anytime in the period between April 11 and 21 and will witness the mobilizing of about 1,100 aircraft which will include different types of  fighters, transports and helicopters.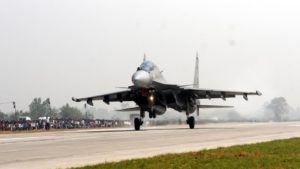 As per the plan about 4000 sorties are under the plan throughout the day and night across the country. Simulated strike missions by IAF fighters may extend deep into the Indian Ocean.
Around 15,000 men and 300 officers are to take part in the all-round exercises which also includes joint operations with the army a well as navy. The Tejas, India's indigenous light combat aircraft is also being inducted into the IAF. These planes will also take part in these drills and can be used for both air defense as well as ground attack missions.
The programme Gagan Shakti 2018 will be conducted around two phases. In the Phase 1, operations will be conducted along the western border about which the government of Pakistan has been given intimation. This phase will be merged seamlessly into the second coming phase along the northern border and will also see operations at high-altitude air landing grounds which were constructed after keeping in view the Chinese defenses on the Tibetian front.
The individual mission's success like simulations of air combat operations can be easily gauged in real-time by the IAF headquarters which want to make it sure that all these exercises "are as real as they get without any shortcuts."
The crucial key to the overall success of Gagan Shakti will be about the maintenance of the fleet or the ability of the IAF to successfully launch a number of aircrafts as much as is possible, whenever they are needed to be with minimal failure rates between every missions.
This ability of IAF would be critical which is presently short of aircraft, specifically in its fighter fleet, a major deficiency it is looking forward to overcome through acquisition of more than 100 fighter jets for which the government today released a Request for Information (RFI) from international aerospace majors.
India has been in threatening conditions sometimes with neighboring Pakistan and China with both of them being an ally to each other. Most recent such incidence is the Doklam faceoff. Alongside this, there were fears that the friction with Pakistan may also compel India to go for a war. In such a scenario India will be messed up between these wars. This is the reason for India preparing for a war, if its starts.
You May Also Read: India Managing Multiple Approaches In China Relationship: Nirmala Sitharaman