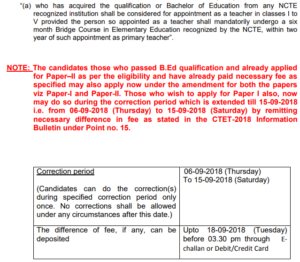 Www.ctet.nic.in 2018 Exam Date & New Changes In Eligibility Criteria
www.ctet.nic.in 2018 Exam Date & New Changes In Eligibility Criteria – As of now, only CBSE Board officials and god knows the exact exam date of CTET 2018. What we know is that there are least chances of CTET being conducted in September 2018. According to the main menu on an official website, an amendment in eligibility criteria under point 6.1 is done. Following which, now B.Ed students can apply for Paper I and Paper II both.
In a special note, Board of Controller of Examination has clearly mentioned that "the candidates those who passed B.Ed qualification and already applied for Paper II as per the eligibility and have already paid a necessary fee as specified may also apply now under the amendment for both the papers viz paper-I and Paper-II. Those who wish to apply for Paper I also, now may do so during the correction period which is extended till 15th September 2018 i.e. from 6th September 2018 (Thursday) to 15th September 2018 (Saturday) by remitting necessary difference in fee as stated in the CTET – 2018 information bulletin under point number 15."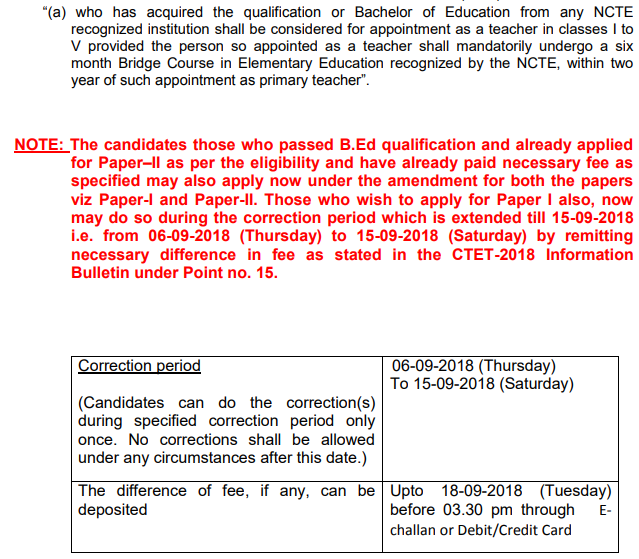 Reports have confirmed that, more or less, Central Teacher Eligibility Test CTET Exam Date will soon be confirmed by Board of Controller of Examinations, Central Board of Secondary Education (CBSE). Side by side, just last three days are remaining in Online Application Form filling of CBSE CTET. After which www.ctet.nic.in 2018 Exam Date will be disclosed and registration link will be deactivated.
From 23rd July 2018 onwards CTET Application Forms were expected to begin. But, following some administrative reasons, the registration procedure was postponed to begin from 1st August 2018. Now all those candidates who have successfully filled the forms are now looking forward to an announcement of Exact Written Test Date of Central Teacher Eligibility Test or www.ctet.nic.in 2018 exam date.
Important points to keep in mind besides checking www.ctet.nic.in 2018 exam date are that – the different of the fee, if any, can be deposited and candidates can do the correction(s) during specified correction period only once. No corrections shall be allowed under any circumstances after this date. Applicants can visit ALLINDIAROUNDUP on regular basis to learn more about www.ctet.nic.in 2018 Exam Date. For CTET passed candidates, the certificate will be valid only until seven years from the date of declaration of results.