Pakistani Behind 2-Star Fake Negative Review Rating For Baahubali
Much hyped multi-lingual Baahubali, directed by S.S. Rajamouli, is all set to hit over 4,000 screens across the world, Bahubali has generated curiosity and excitement among cine buffs because of the pre-release publicity. Each and every one is waiting for this two part Indian film with an eager eye, but Kiaara's tweets have become the topic of discussion on twitter. Couple of tweets tweeted from the account @KiaaraSandhu have mentioned that "Baahubali" is a crap movie and there is no need to watch it on IMAX screen. Giving a rating of 'two' stars, the woman named Kiaara stated, "#Baahubali is the best example to FOOL the Public by saying India's Biggest Motion Picture. It has Beautiful Sets & ZERO Content. #Prabhas & @RanaDaggubati has no STAR Power like #RamCharan @urstrulyMahesh @PawanKalyan..!! #Baahubali is a Disaster. SKIP It. 2*/5*".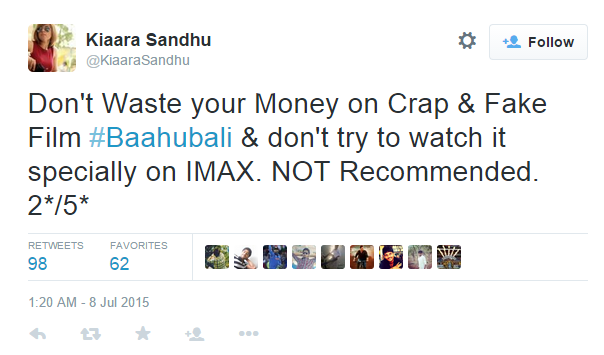 Usually Censor Board member will not talk about a movie before release, and no one will never dare to compare the stardom of each individual stars like Pawan, Mahesh, Charan with Prabhas and Rana because every star-hero is having equal share of hits and flops at box office.  A quick dig into the profile further reveals that it belongs to someone who operates from Pakistan. There is some selected bashing on Indian movies and cinema actors on the timeline, which once again confirms that the main target of the alleged social network user is to defame Indian cinema.
Fans Reaction on Kiaara Tweets:
Baahubali fans claim that she writes wrong reviews all the time as she had given  4/5 rating to Ram Charan's mega disaster Bollywood flick, 'Toofan', 4/5 to Mahesh Babu's disaster film, 'Aagadu', 4/5 to NTR's forgettable 'Rabhasa' etc. in the past. So her rating doesn't matter.
Twitter Reactions:
Don't Waste your Money on Crap & Fake Film #Baahubali & don't try to watch it specially on IMAX. NOT Recommended. 2*/5*

— Kiaara Sandhu (@KiaaraSandhu) July 8, 2015
"Don't Waste your Money on Crap & Fake Film #Baahubali & don't try to watch it specially on IMAX. NOT Recommended. (2*/5*)"
#Prabhas & @RanaDaggubati has no STAR Power like #RamCharan@urstrulyMahesh@PawanKalyan..!! #Baahubali is a Disaster. SKIP It. 2*/5*

— Kiaara Sandhu (@KiaaraSandhu) July 8, 2015
"#Prabhas & @RanaDaggubati has no STAR Power like #RamCharan @urstrulyMahesh @PawanKalyan..!! #Baahubali is a Disaster. SKIP It. (2*/5*)"
#Baahubali is the best example to FOOL the Public by saying India's Biggest Motion Picture. It has Beautiful Sets & ZERO Content. 2*/5* — Kiaara Sandhu (@KiaaraSandhu) July 8, 2015
"#Baahubali is the best example to FOOL the Public by saying India's Biggest Motion Picture. It has Beautiful Sets & ZERO Content. (2*/5*)"
After watching trial show of #Bahubali in UAE. All Distributors said,,Sad !! All that Glitters is not Gold. It's Just an AVERAGE film. 2*/5* — Kiaara Sandhu (@KiaaraSandhu) July 8, 2015
"After watching trial show of #Bahubali in UAE. All Distributors said, Sad !! All that Glitters is not Gold. It's Just an AVERAGE film. (2*/5*)"
Indian Cinema Magazine UAE Review #Bahubali.A Beautiful Body without Soul. Crap Screenplay & Music. Average Performances by actors. 2*/5*
— Kiaara Sandhu (@KiaaraSandhu) July 8, 2015
"Indian Cinema Magazine UAE Review of Bahubali film. A beautiful body without Soul, Crap Screenplay & Music, Average Performances by actors. (2*/5*)."
Fans must not believe these reviews and must watch the hard of the team on screen only. Also these tweets look like something to trigger war between fans and create some sort of unrest on social circuits. Its better someone knocks door of Cyber Crime to take action on these hatred spreaders