This 61-Year-Old Woman Wins 3K Run Marathon Wearing Sari With Barefoot
A 61-year-old woman has proved her age beyond any doubt by winning a marathon barefoot, leaving all other experienced runners and trained athletes far behind. Athletes and spectators were left open-mouthed in awe of the sari-clad Lata Bhagwan Kare. She is a laborer from the town of Pimpli. She surprised everyone by finishing the 3K run first upon all experienced runners.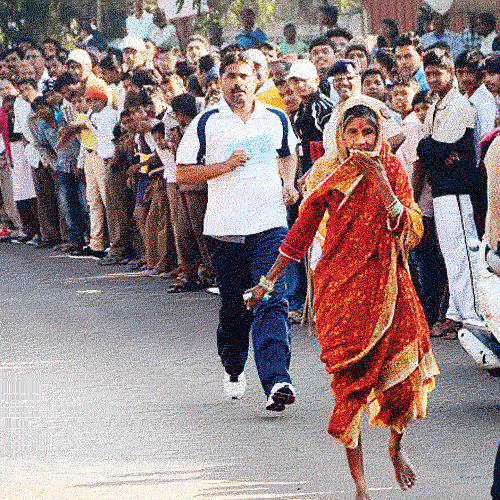 "When I came to know about the competition, I decided to participate in the event. I gathered courage and informed my son that I wanted to run the marathon. Initially, he gave me a weird look as in his opinion it was not possible, given my age. But I was determined, so he finally gave in," she said.
Lata Bhagwan Kare actually started the race with slippers on, but they came off just a few meters into the race, she took them off. Kare revealed that she felt a little nervous standing at the start line "I felt a little awkward, as all the other participants were staring at my dress. That also made me a little nervous. However, when the race began and I started overtaking them one by one, I gained my energy. While running I was talking to myself and telling that I want to win this race and I did it."
Her necessity to raise funds for her ill Husband which gave her Strength to fight against all odds and Win.
Organizer Sachin Satav said, "We never expected a participant like Kare to be the winner of the race. It was a pleasant surprise. We were extremely happy while handing over the trophy to Kare."