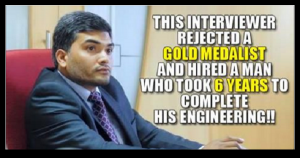 This Video Could Transform Life Of Someone Who Is Preparing For A JOB INTERVIEW
Interviews have always been a nerve racking experience. A situation where you are judged on your performance for a job. Companies are now much more thorough in their hiring process and the job market has become more competitive. Now-a-days nobody is questioning the skill-based questions while interviewing candidates. Then the question is How to crack the interview that's not crackable? Here's a video about an interview process for the job, where the best of the best gets rejected and finally one person with less aggregate got selected. Have a look how he got selected!
Watch the Interview video here:
Its not because they don't have knowledge or anything was wrong about their academic activity. Its just the attitude, people tend to say things in an interview which an interviewer wants to listen but not what he actually wants to say.
"Always appear in Interview with attitude as in you don't need this job". It will help you to overcome the fear of rejection or losing the job & boost your Self Confidence. No company will hire fearful person so overcome your fear if want the Job.
Must Read: