17-Year-Old Unnao Victim Shares The Story Of Her Brutal Rape
The brutal gangrape and murder of an 8-year-old child from Kathua in Jammu and Kashmir and a 17-year-old girl from Unnao in Uttar Pradesh has pushed the people of the country to protest, and demand that be justice be served. Several groups of people from different cities took to the street to demand justice for these gruesome crimes.
Kuldeep Singh Sengar, 50, from the ruling BJP allegedly raped the girl last year in Unnao district. But her case was registered only after she tried to kill herself last week in front of the chief minister's home.
Here are the things she shared in a recent interview :
What is more shocking is that the police refused to file an FIR against the MLA. The things told by 17-year-old girl will make us believe that a common man is always maligned by the people in power.
"It was june 4 last year. i was asked to go inside a room, where he raped me. later, i was told that my father and family would be killed if i opened my mouth. i did not speak about it to anyone until i was kidnapped by some of his people a few days later, on june 11. they gangraped me for a few days and sold me to someone from whom i was recovered."


According to her, family of her and BJP MLA Kuldeep Singh Sengar once enjoyed "cordial relations". Their houses were opposite each other's in Makhi village, and the victim and her siblings used to address the MLA as "Bhaiyya".
"All of us used to call him brother.  Sometimes, the MLA used to come home and ask my grandmother to prepare egg fry for him, and she used to do it."
After this horrific incident, they shifted to Delhi where she shared the details to her uncle about what happened to her.
"On August 17, 2017, my uncle and I went to Lucknow and submitted an application to Chief Minister Yogi Adityanath at his residence. He gave it to some others standing with him but nothing happened. Neither me nor my father could come back to the village. I dropped out of school after Class VI about five years ago due to constant harassment by local boys".


The police asked her to stay out of the case
"When nothing happened even after meeting the Chief Minister personally, I wrote applications to the President, Prime Minister, the UP DGP, seeking help. But nothing happened, I was instead advised by policemen to leave the MLA out of it."
The things turned ugly when her father was beaten up and  then she decided to meet the chief minister again.
"Those at the gate said he was not there. We requested to meet his subordinates but they refused. I felt that I was the cause of all the trouble for the entire family and had brought kerosene with me. I took it out and poured it on myself. But instead of me, my father was killed."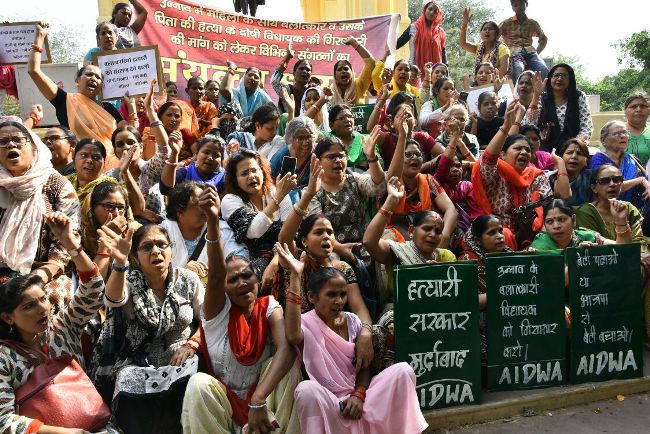 Father of the girl came to village to give medicine to her grandmother who is suffering from Tuberculosis. The Grandmother said
"I am to be blamed for his death as he had come to the village just to give me medicines. He also wanted to meet his son. They held him by his feet and dragged him out of my house in front of my eyes. We had closed the door but they jumped in… I will never go there again. When they could pick up the male member of our family from our house in front of the entire village and beat him publicly with their guns and cane sticks, you can imagine our plight. How can we be secure now? They can pick any one of us at night and our bodies would not be found."


CBI registered three separate cases  against BJP MLA Kuldeep Singh Sengar and detained him for questioning. The victim is demanding a severe punishment for him. She said
"Usne kaha tha ki agar bologi kisi ko toh tumhare papa ko aur parivar ko khatam kar denge. Usne kar diya aur abhi bhi muskurake ghoom raha hai. Jaan de denge, wapas nahin jayenge… lekin ladai ladenge. FIR se kya hota hai, un sabki giraftari honi chahiye."