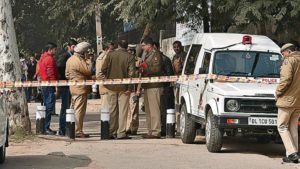 18-year-old teen from New Delhi dies while on a joyride with his friends after their overspeeding car hits a pole
An 18-year-old boy who was on a joyride with his friends died after their overspeeding Honda City Car hit a pole. The accident happened on April 20, 2019, in the Jwala Heri Market which is located at the outer part of Delhi.
The police added that the 2 friends of the boy attained injuries from the incident and are currently admitted in a private hospital in New Delhi.
The three teenagers have been identified as Himanshu, Jayant, and Sahib, they took out the Honda City for a joyride on Saturday morning, the car was owned by the family of Sahib.
The people who saw the accident told the police that the teens were driving at a speed of 100 kilometers per hour on the crowded road.
Sahib was driving the car, Himanshu was sitting at the front seat, and Jayant was at the back of the car.
Officials say that Sahib lost control over his car when he tried to avoid a divider, his vehicle hit a pole instead.
The impact of the crash was so intense that Himanshu crashed out through the windshield and hit the pole, officials added that he was not wearing the seatbelt.
Himanshu passed away on the spot, while Jayant and Sahib were rushed to the hospital.
The parents of Sahib bought the car for him recently.
The police added that they did not recover any driving licenses from the 3 boys, the police are yet to record the statements of Sahib and Jayant.
DCP Seju Kuruvilla said that a case has been registered under the Indian Penal Code Section 304A.
The body of Himanshu has been handed over to his family members.
The police have also launched a probe for the incident.