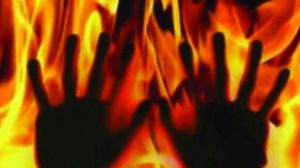 28-year-old man with depression commits suicide with hopes of meeting dead mother
On Sunday, Adhip Mukherjee, a 28-year-old man with depression commits suicide inside his home by setting himself on fire. Officials said that the man also tried to commit suicide last year, the police added that they recovered a suicide note from his house, the letter said that the man was on his way to meet his dead mother.
Adhip Mukherjee used to live with his aunt and uncle at his BF Block Home, he has been suffering from depression since Adhip saw his mum pass away in front of him in an accident three years ago. Adhip lost his father when he was in Class 6, he was also very close to him, the father passed away after getting a heart attack.
A police officer from the Bidhannagar Commissionerate said, "On Sunday, neighbors saw fire at the first-floor of the house around 2.30am and called the elderly uncle and aunt. The door of the first-floor room was locked from inside and by the time neighbors could break open and pour water on the 28-year-old, he was dead."
The police officer added that Adhip tried to commit suicide last year by taking sleeping pills, he was saved by his family members.
28-year-old Adhip studied medicine and was enrolled in a pathology course, but he decided to stop after his mother passed away.
The police are looking at the case as a case of suicide.