65-Year-Old Milkman Who Has Never Missed A Shift In 50 Years Forced To Retire From His Job After Thief Beat Him Up With A Baseball Bat And Steals His Float
John Kershaw, a 65-year-old Milkman from Greater Manchester, who has never missed his job shift in 50 years, was forced to retire after a thief beat him up with a baseball bat and stole his float.
The 65-year-old was going to celebrate 50 years in the business but was forced to quit after he was beaten up.
The 65-year-old man was attacked during his morning round on April 22, he was pulled out of his van and was thrashed with a baseball bat.
He was rushed to a hospital, he attained injuries on his head and body.
The 65-year-old Deliveryman had another van robbed earlier this year, and that is why he has decided to retire, John was set to celebrate his 50-year-anniversary in August.
John Kershaw and his wife decided to write a letter for his 200 customers that explained why he was retiring.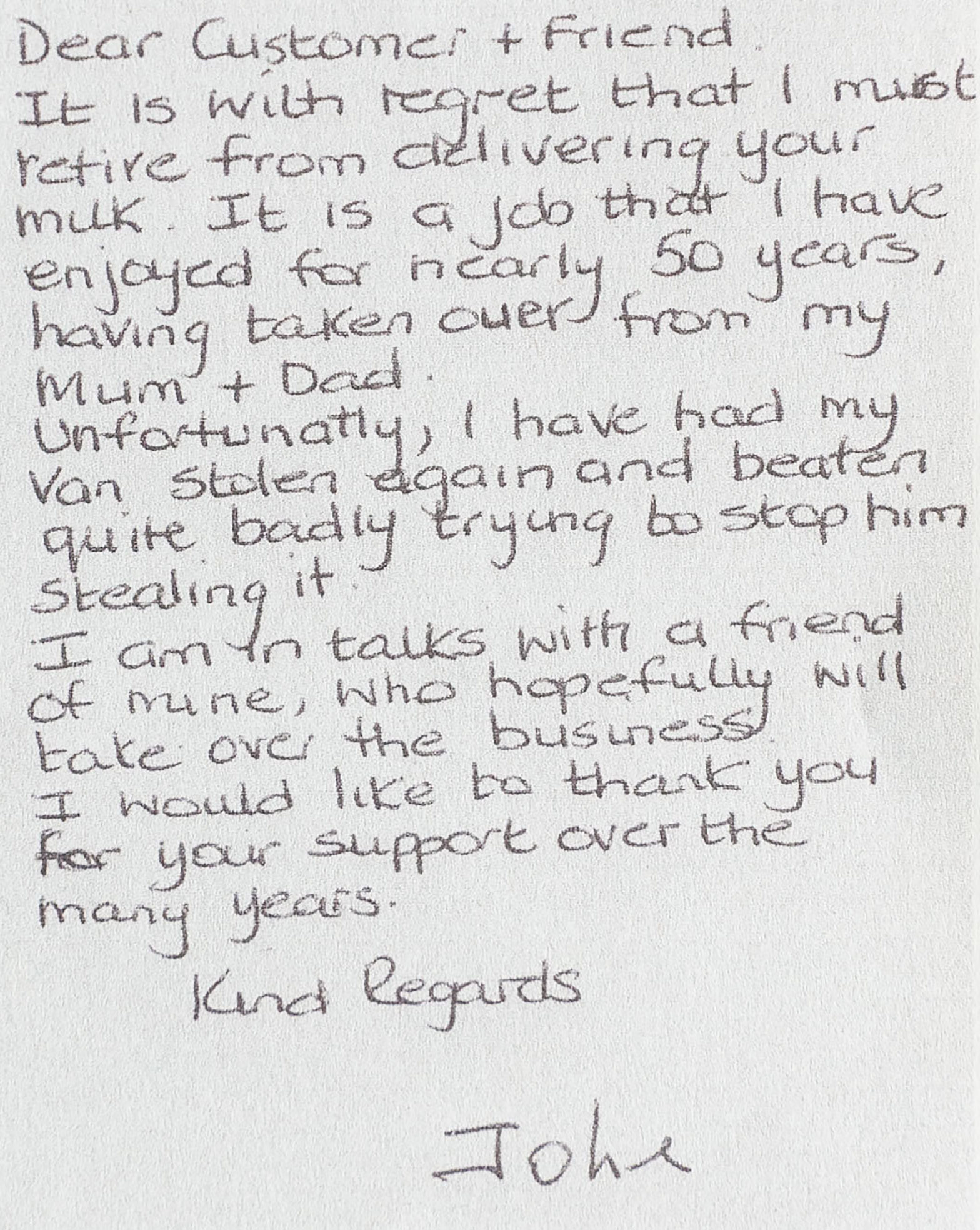 In the letter, John wrote, "I had my van stolen three months ago in a different attack. I could have retired last year but I really wanted it to make it to 50 years in the trade. Making it to 50 was always my goal so it's a shame I've not been able to make it. But I just thought to myself I can't got on."
John was working when a masked thief targeted him and pulled him out of his float and beat him up with a baseball bat.
The father of two was rushed to the Oldham General Hospital.
John explained how the thief stole his float, he said, "I had just got in my car when this man in a balaclava just reached for the door. He pulled me out and dragged me across the floor. I decided to keep a baseball bat in the van after the last attack. I went in to get it but he grabbed it off me and started beating me with it. It was a good few minutes but it felt like forever. I had a bum bag around my waist at the time, which had a spare set of keys in."
He added, "He rifled through that before yelling, 'Give me the keys – you're old, man, I don't want to have to kill you.' Then he got in the car and drove off. When I went to the hospital the doctors did a CT scan and all the works. As I was waiting for them to examine me I realized one of my teeth was very loose. I haven't fractured anything but I came out of there very bruised and battered."
After he spoke to Jill, a retired NHS worker, he decided that it was time to call it a day.
John Kershaw joined the family business in 1969, the business was set up by his father in 1953 and for almost 50 years, John, a committed milkman, started to work by 4 am every day, he works to the depot and delivers milk to people who live in Rochdale.
John described how much he loves his work, he said, "It's always a job I've enjoyed doing. Both my mum and dad delivered milk so it's something which has always been close to my heart. I always tried to do it early, as if you deliver it after 7.30am you'll be hit by the traffic, which isn't helpful to people taking their kids to school and those going to work."
He added, "I thought it [hand-writing the letter] was a nicer touch than for it to be typed out so I dictated to Jill what I wanted to say. I then signed it. She wrote it out four times on a piece of paper and we photocopied it 50 times. Jill then cut them up and I got my children to go round to all the customers I've served for years. It started as a family business and I suppose in a way it's ended like that. I've got someone who I think will be a good fit to take over the business."
A GoFundMe page has also been set up for John.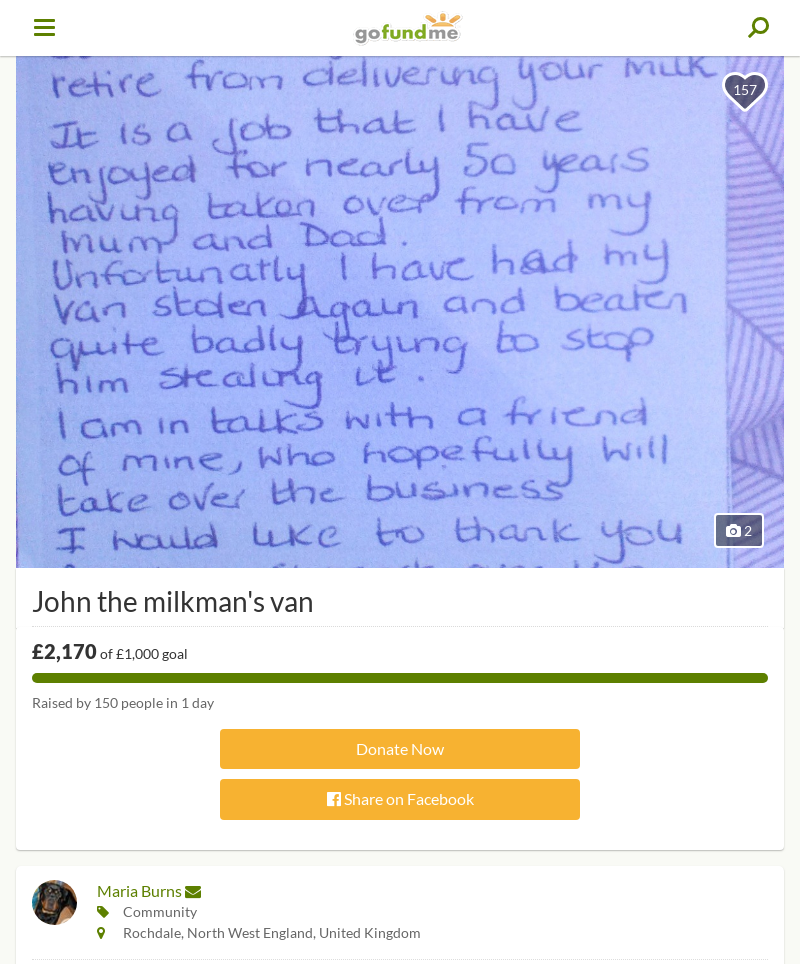 The Greater Manchester Police released a statement regarding the incident, a spokesman said, "Police were called after a man was assaulted and his vehicle stolen on Waithlands Road, Rochdale at around 6.30am on Monday 22 April 2019. The victim, a man in his 60s, was approached by an unknown man who demanded he hand over the keys to his vehicle. The offender then assaulted the victim with a baseball bat before stealing his vehicle – a silver Vauxhall combi van.
The spokesman added, "The offender is described as white, around 5ft 6ins tall. He was wearing black clothing and a balaclava. Anyone with information should call police on 0161 856 4810quoting incident number 484 of 22/04/19 or the independent charity Crimestoppers, anonymously, on 0800 555 111."